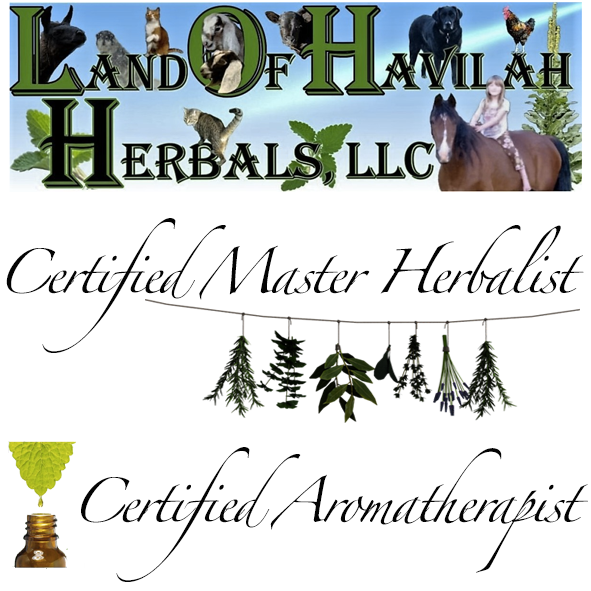 This page was created specifically for using our Parasite Formula. This formula is tested using the same standards required for human supplements, plus we went beyond human testing requirements by also testing for Heavy Metals/Lead.
PLEASE NOTE:  The free guidance of our Certified Master Herbalist & Aromatherapist (Kristie) is included with the product you purchased through our store. Please provide your order number in this contact form with all requests for assistance with products. To find this information, you can login to your Land of Havilah account. If this information cannot be provided then a consultation is required. We are happy to help you select products from our store that you need for a situation before a purchase – this is not a consultation.
Do you learn better with videos/audios in addition to reading?  We invite you to visit the online course section of our website to learn more about the safe and effective use of herbs and essential oils!
UPDATE April 8th, 2018: We will be launching a brand new MEMBERSHIP site soon, which will include monthly subscriptions to online classes with Kristie – there will 4 levels of membership available:  Basic (free), Plus, Premium, and Platinum! Watch our Facebook page for more details over the next few weeks!
Online Classes. We have a new online class specifically about using our Parasite Formula MIX, and also a separate online class about using the Parasite Formula as a TEA in your water tank for easier administration.
Dosage, Frequency, and Administration Suggestions:
I have included some information below that may be helpful in figuring the dosage for your creature, some beneficial additions, administration suggestions, and my answers to Frequently Asked Questions (aka FAQ's).
Dosage is by weight of the creature:
NOTE:   Horses only use the equine/camelid parasite formula!!
Frequency of dosage:
Give AM and PM 3 days in a row for the first week (i.e. Monday AM & PM, Tuesday AM & PM, Wednesday AM & PM).
After the first week, give once a week (i.e. Monday AM).  NOTE: Please keep in mind that if you are in an area that doesn't get a good, long freeze during the winter, or you battle parasite overloads, you may want to give this more often during the week. Consider following the Herbal Coccidia Prevention Program for your whole herd to keep things under control or to overcome issues.
My Herd's Herbal COCCIDIA Prevention Program:  For goat kids, give at least 3x/week AND every day ground conditions are wet. One dose each of those days. I do this to keep ahead of coccidia. We live in Michigan, so once each of those days works well for us, but you may want to consider twice each of those days if you struggle with keeping coccidia under control. See "Raising Goat Kids Naturally"
Acute Dosage NOT for pregnant creatures:  In a situation of parasite overload, give a double dose by weight of the creature, then give at normal dose every hour for the next 3 hours. Then give at normal dose once every 4 hours. After all symptoms of overload are gone, continue to dose 3x/day for the next 3 days. THIS IS WHAT I WOULD DO FOR GOATS. I would only dose during the night in a critical situation, sleep is healing for the patient and the caregiver.
Acute Dosage FOR PREGNANT creatures:  In a situation of parasite overload, give a NORMAL dose by weight of the creature every 4 hours. After all symptoms of overload are gone, continue to dose 3x/day for the next 3 days. THIS IS WHAT I WOULD DO FOR GOATS. I would only dose during the night in a critical situation, sleep is healing for the patient and the caregiver.  If you make a mistake, do not panic.  I have purposely quadruple dosed my pregnant does with absolutely no issues = they kidded robust, healthy kids, and the does did fantastic.  I have confidence that this formula is safe during pregnancy.  Tea is also a very, very safe way to use this formula, see my blog post for details.
Administration Suggestions:
Basically, pick the method that is the best for your situation.  It helps a lot if your goats have a preference.  My girls chase me down if they see the drench syringe in my hand.  They think it is a tasty treat.  😉  Will ALL goats feel that way?  NOPE.  Experiment with these different methods and see what they think.  Use your imagination as well.  My customers come up with some great ideas that have never crossed my mind!  You guys are amazing!  Basically, almost any way that you can get them to eat/drink will probably work.  Just remember not to heat the herbs.  Feel free to run your idea by me first, if you would like.  I can be reached here.   🙂
Drench:  I put the correct dose into a bowl or jar and add enough distilled water to make it go through the Drench Syringe. Don't forget to add Garlic & Ginger Paste to the dose during Chronic or Acute situations.
Dosage/Herb balls:  My goats don't prefer this way and I find it too time consuming.  Other people have good luck making Herb Balls by adding something sticky (like Blackstrap Molasses, raw honey, or peanut butter). Just add enough to make the correct dose of herbs into a ball.  Don't forget to add Garlic & Ginger Paste to the dose.
Tea/infusion:  I mostly use it as a tea now, since it is so easy and my goats love it and do well on it.  See my blog post instructions here.  Will all goats drink the tea readily?  Nope.  Goats can be very stubborn about change.  I suggest trying a gallon size bucket and adding blackstrap molasses to encourage them to try it.  I have an online class here that includes videos and I walk you through how to prepare and administer the tea method.
Top dressed on feed:  I don't prefer this method and my goats don't like it either, but some folks like to add their goat's dose sprinkled on top of their feed (or mixed into Chaffhaye – my herd WILL eat it this way).  However, I prefer not to mix/dilute the herbs with food. Don't forget to add Garlic & Ginger Paste to the dose.
Mixed in kelp.  I have put it out mixed in Thorvin Kelp and my herd eats it as needed.  I'm not sure how other herds would do with this option, but mine did well and even when they went through quite a bit I never observed any issues from eating a lot at one sitting.  My pregnant does also had this available and they had healthy pregnancies and the kids were healthy and robust at birth.  I used 1/8 – 1/4 cup of Parasite Formula and mixed it into one pound of Thorvin Kelp.  The amount of that mix that I put out depended on how many animals were in that pasture/pen, and I kept it out in one side of a mineral feeder and made sure that I had Vitalerbs mixed into kelp (using the same amounts I mentioned above) in the other side of the mineral feeder to ensure that their vitamin/mineral requirements are being met.  See this video of my mineral feeder setup.  Most of the time mine only nibble at this kelp/Parasite Formula mix, but sometimes one will eat quite a bit, it seems to depend on their need at that point.
Additions to consider:
It is excellent to add extra FRESH garlic and FRESH Ginger root to the dose immediately prior (or added to the drench) to administration to the creature if you are working with a Chronic or Acute situation. I STRONGLY suggest that you consider this, it really supercharges the formula. However, I DO have powdered garlic and ginger in the formula to cover my bases. See recipe for Garlic and Ginger paste (below).
During emergencies: At least an hour after dosing our Parasite Formula, give 1/2 teaspoon of Quick Colon Tonic #2 to help adsorb (not to be confused with absorb) toxins and eliminate them from the body. It is also healing and soothing to the GI tract, which is taking a beating during a parasite overload.
Essential oils:  As a Certified Master Herbalist & Aromatherapist, I am a big believer in using essential oils and herbs together.  Essential oils are NOT like using the whole herb – the "safety feature" constituents are left in the herb "marc" (the waste parts of the herbs that are discarded after creating an  essential oil). I feel the safest way to use essential oils is to use them in combination with herbs so that those safety features are available to the body.  Essential oils are powerful and MUCH more concentrated in the bottle than they are within the herb naturally.  "With great power comes great responsibility".  We must be mindful of their potency/concentration and use them wisely.  Now don't get me wrong – I LOVE essential oils!  They are an amazing addition to our tool chest.  We need to focus on how to SAFELY use them.  My clients and I have had great success with pairing Parasite Formula with essential oils.  They are a great addition when we need to pack an extra punch in an acute situation.  I have information available here.  I will not be providing list of essential oils that I suggest on this page, but I can help you select oils for your situation in a consultation. I do not go into detail here about which oils to use for specific parasite types, as that requires more information about your situation.  I have several studies that I can analyze to find the best oils for your situation, which is why a consultation is required. Remember to ALWAYS add a lipid when essential oils are used orally.  Consider using them with the homemade fresh garlic/ginger paste recipe (see below), or add 1/2 teaspoon of raw honey or Olive oil (if you choose to use an oil, my strong preference is cold pressed Extra Virgin Olive Oil).
How to make Garlic & Ginger Paste
This makes it easier to get fresh garlic and fresh ginger into goat kids and goats that won't eat the garlic cloves. Please keep this paste in the refrigerator after it is prepared. Dosage suggestion of the finished paste: If I have an animal that is between 150#-200#, I add 1 Tablespoon (which equals 3 teaspoons) to each dose of Parasite Formula.  My basic Rule of Thumb is to find the correct dose of DRY POWDERED herbs (see the chart at the top of this page) for the size of the animal I'm working with, then I double that amount due to the water content in the fresh herbs (garlic and ginger root).  NOTE:  It is not necessary to double the amount of garlic/ginger paste if you are double dosing the dry herbs.
You will need:
Several heads of garlic
One Ginger root
Extra Virgin Olive Oil
A Blender
A high powered blender like a Vitamix or a Blendtec does a fantastic job. Here is a link to my website, and it shows the exact Blendtec that I purchased:  Links & Discounts page .  I have been told that an immersion stick blender also works well, but I have not tried that myself.  This one may work well, but I do not own it so I cannot speak from personal experience.
You will be weighing the ginger root and the garlic cloves and using EQUAL PARTS of each, i.e. 1 oz of garlic and 1 oz ginger.
Steps:
1. Roughly peel the heads of garlic (you don't have to get all the skin off) and place them in your blender.
2. Cut the ginger into small pieces and place them in the blender.
3. Cover with enough oil to cover the garlic and ginger.
4. Turn on blender and liquefy.
5. Add more oil if needed to make it blend. You can use this immediately, but it also improves with age.
Frequently Asked Questions:
How many cups of herb are in the LOH Parasite Formula?  There are approximately 5 cups of LOH Parasite Formula in each 16 oz size bag.
Can I use LOH Parasite Formula for my other animals?  I have many customers who use it for many different types of animals (chickens, pigs, dogs, cats), and they are very happy with the results.  I use it for my own dog and cat, and I am pleased with what I've observed.  Please remember not to use the regular formula for Equines/Camelids, I have a special formula for them that does not include Black Walnut.
Can the LOH Parasite Formula be given to pregnant creatures?  Yes, I have it formulated so that it may be used for animals during pregnancy and lactation.  This is anecdotal, but I wanted to mention that I have given HUGE doses of this formula to my pregnant does if they needed help to overcome a parasite load, and the doe has thrived and the babies were born healthy robust.
What grade herbs do you use for the LOH Parasite Formula?  All the herbs that I have for sale on my website are made using Medicinal Grade herbs. There are NO fillers in any of the formulas or herbs that I have available on my website. Our herbs are NOT Standardized. I'm trained as a Vitalist, no toxic, poisonous or habit forming herbs are used in our formulations.