Ecstatic scored an Excellent in Udder Texture, and Very Good in Front Legs, Rear Legs, Feet, Dairy Strength, and Mammary. (LA: September 14, 2019)

Pictures of Ecstatic (milked out) September 29, 2019. Special thanks to Rachel for goat handling/setting up!
Purebred Nubian doe
Registration #PN1901425
DOB: 4/09/2017
Sire: SGCH ++*B J&R Spirit's HT-K Kaitai **Elite Buck**
Dam: SG Land of Havilah ShekinahGlory 2*M
***DNA on file***
***Parentage Verified***
LA Scores:
2019: 02-05 84 +V+V (First Freshener)
Ecstatic is an AI breeding out of our ShekinahGlory and the absolutely amazing *Elite Buck*, SGCH +*B J&R Spirit's HT-K Kaitai! I chose Kaitai in the hopes of adding width and stacking more production, and I'm excited to say that she freshened with a gorgeous, well attached mammary system and she is milking extremely well!
Awards:
Ecstatic was awarded her Superior Genetics (SG) status as a First Freshener in November 2019!
Ecstatic earned her 3*M designation as a First Freshener in 2019. She earned her star in all three categories which makes her an AR doe, so all her bucklings will have their *B designation.
To view "Ecstatic's" ADGA pedigree, click here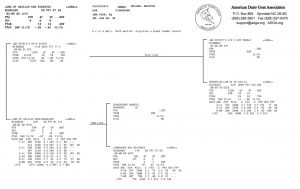 Here are some pictures of Ecstatic. Special thanks to Rachel for setting her up while I took pix! February 2019.
Ecstatic's sire:
Sire: SGCH ++*B J&R Spirit's HT-K Kaitai **Elite Buck**

LA Score:
2011: 03-03 EX91 EEE
2016: 07-06 EX93 2E (Classification in Canada)


Kaitai descends from an extremely strong dam line that has continually proved itself across several different bloodlines and within many herds. Kaitai is a beautiful dairy buck who is tall, sharp, clean, long and level. He has straight forelegs and square set to his rear legs.

Kaitai is out of SGCH Desert-Willow KE CK Kailia 2*M. Kailia appraised at EX93 EEEE at eight years old! She also won 1st place Aged Doe at the 2009 National Show AND won Reserve Best Udder the same year (at 8 years old)!! The pictures below were taken at the 2009 National Show.

Visit this link to learn more about Kaitai!

To read more about Kailia, click here!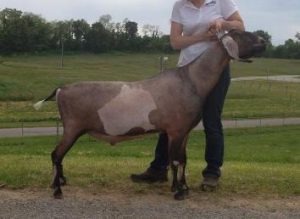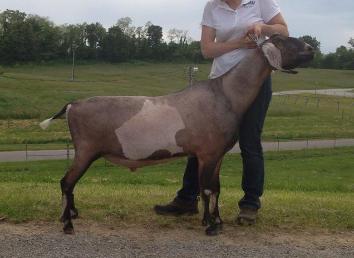 Ecstatics's dam:
Dam: SG Land of Havilah ShekinahGlory 2*M

LA Score:
2010: 02-02 84 VV++
2011: 03-04 86 +V+E
2012: 04-03 VG88 VEVV
2013: 05-05 VG86 VEVV
2014: 06-02 VG88 VEVV

Shekinah was#2 on the State of Michigan 2013 DHIR Honor Roll for milk, butterfat & protein!

Shekinah earned SG status in September 2013 !

Visit this link to learn more about Shekinah