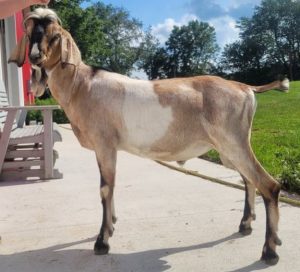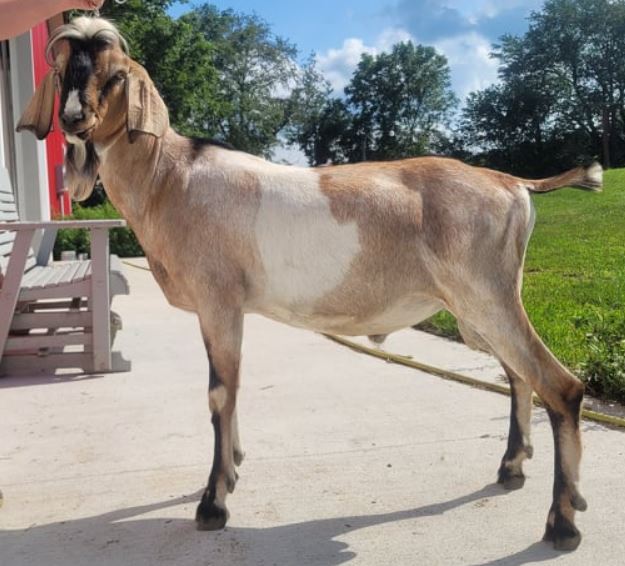 Purebred Nubian buck
ADGA Genetics link: N002133132
ADGA Registration #PN2133132
AGS Registration #N-60784
AGS awards: *S
VGL Case #ADG19521
DOB: 03/22/2020
Sire: *B Land of Havilah TRC Midas +*S
Dam: Land of Havilah ML Lilly 4*M 4*D
---
Genetic Information
DNA Typed, Parent Verified
G6S: Normal (N/N)
Alpha S1 Casein: A/B
Scrapie Variant: NN/QQ
Description
RED WITH ROANING, WHITE SPLASHES, POLL, SNIP ON NOSE, SOLID EARS
We retained Galaxy as a Herd Sire in 2020. He is out of Land of Havilah ML Lilly 4*M and *B Land of Havilah TRC Midas. He has the qualities that I've been breeding for with a strong chine, level topline, very dairy skin texture, beautiful head and ears. Both his front and rear legs are set correctly. His front legs are straight from both front and side. I love the capacity he has even as a young buck. And his hairdo is rockin lol. I think he will be the biggest buck I have ever owned by the time he is mature. He passes his very dairy skin on to his kids, which promises excellent udder texture in his daughters.
In 2022, Galaxy scored Excellent in Head, and Rear Legs; and Very Good in Rump, General Appearance, and Dairy Strength. His final score was VG86 VV+. I'm very grateful that the appraiser allowed me to get a score on Galaxy, as only one buck was allowed to be scored in our entire session. This is a great score for a young buck and I'm looking forward to watching him mature. LA: September 20, 2022.
---
Galaxy's Progeny in Our Herd
LAND OF HAVILAH G CHERIE AMOUR
---
Linear Appraisal Scores
2022: VG86 VV+
---
Awards

ADGA: Galaxy has his *B designation from his parentage.
AGS: Galaxy has his *S designation from his parentage.
---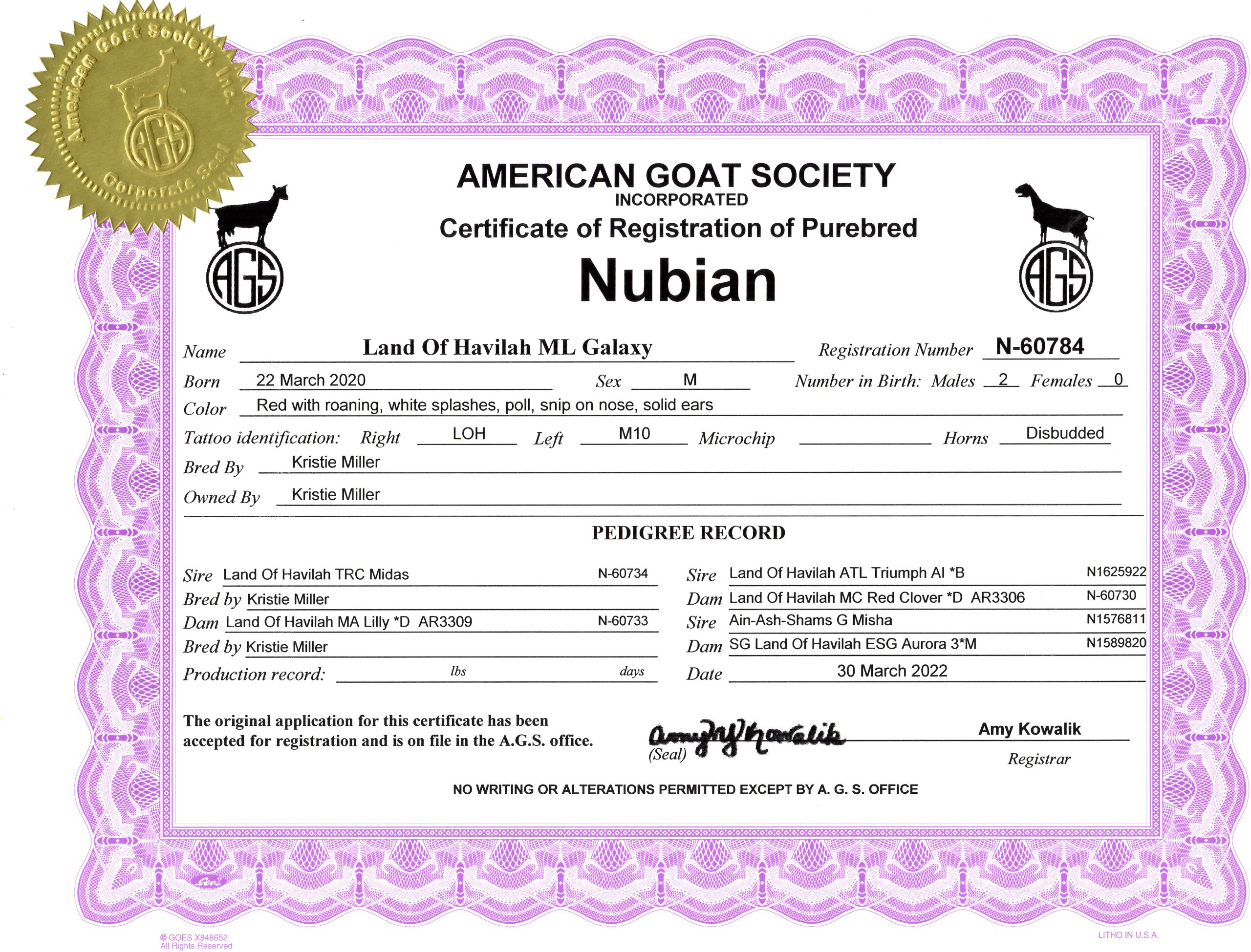 ---
Sire
Midas is a combination of two really nice bloodlines within our herd. He is a gorgeous buck, he is very good in head, front and rear legs, and body capacity. He is exceptionally wide with great substance of bone, which he passes on to his kids. ADGA hasn't been able to provide us with a linear appraisal since 2019, so I'm excited to see how he scores as a mature buck and seeing how his daughters appraise.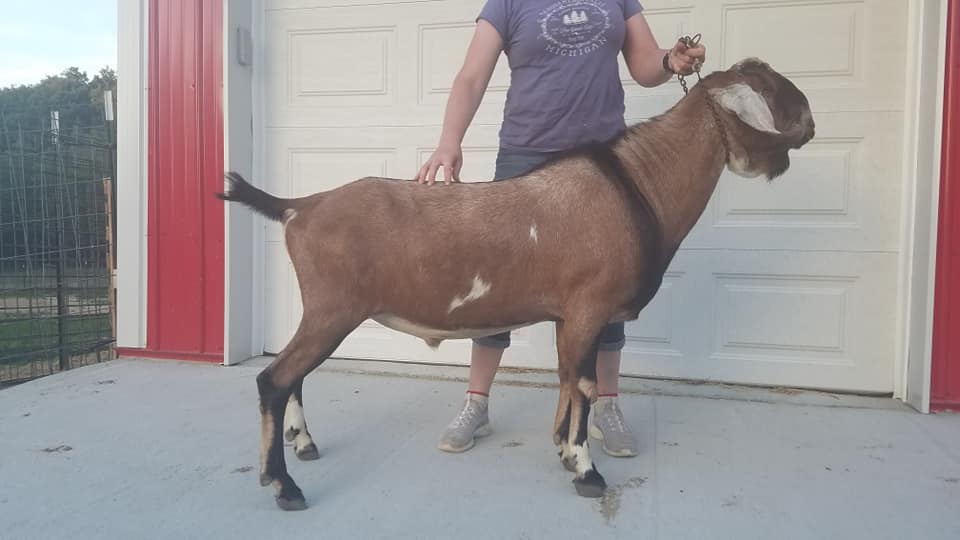 ---
Dam
I love, love, love this doe! Lilly is out of our Aurora, who is a stand out doe that is easy to keep weight on and she is an excellent producer and mother.
Lilly is an easy keeper with lots of substance of bone, thanks to her sire, Misha. She has a lovely head with a deep jaw, and is a hardy girl – I'm looking forward to seeing her freshen again!
Lilly scored Excellent in Udder Texture, Front Legs, and Rear Legs; and Very Good in Head, Back, Rump, General Appearance, Dairy Strength, and Body Capacity.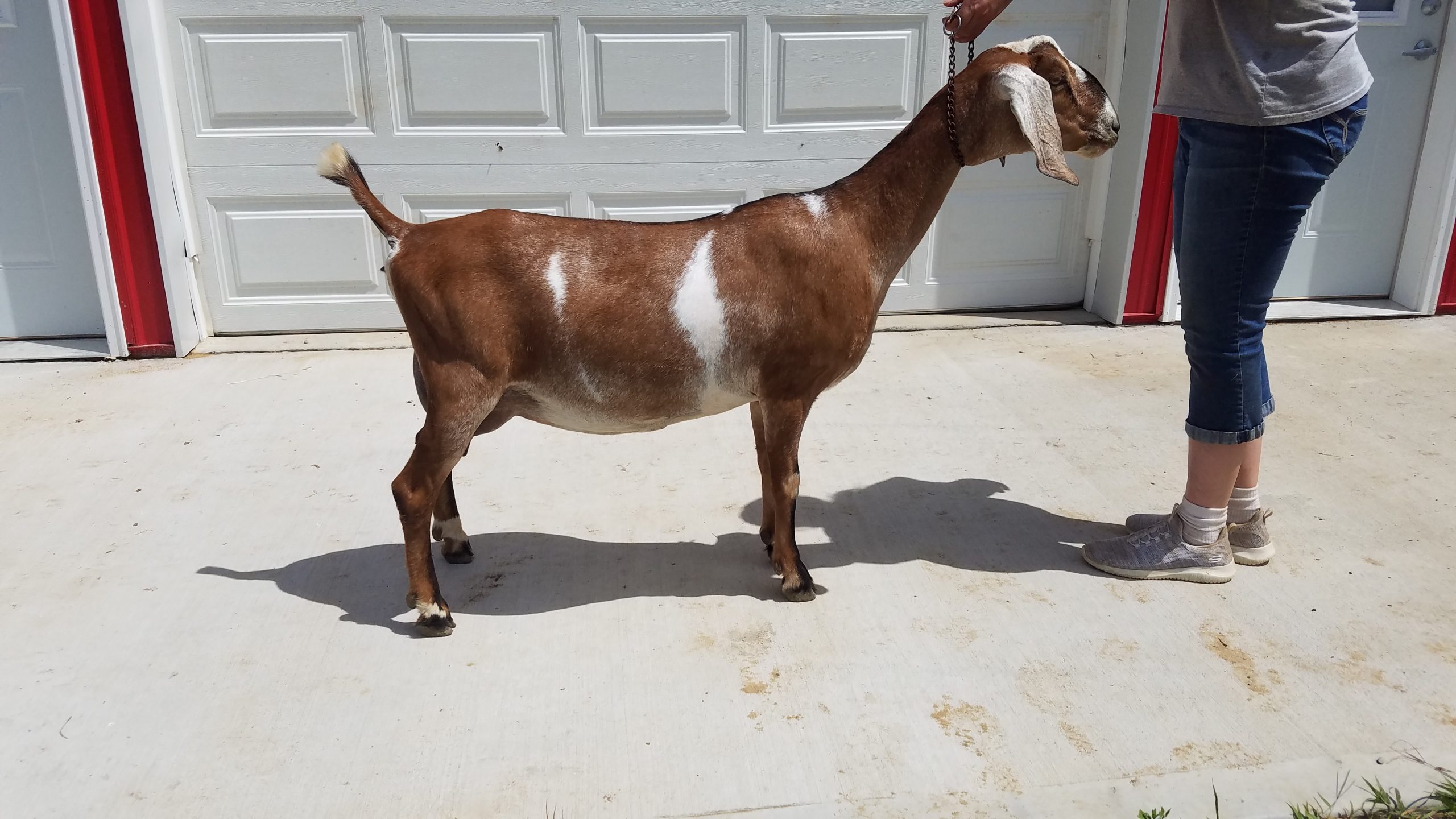 ---
Photo Gallery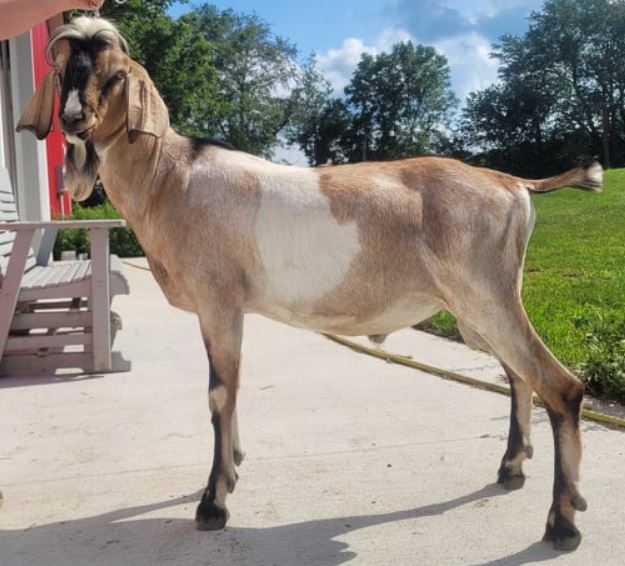 ---
Disease Test Results
Please visit our Biosecurity Test Results page to see our herdwide test results back to 2006.
---
Genetic Test Results