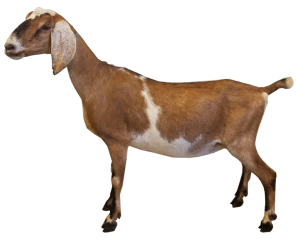 Purebred Nubian doe
Registration #N001810746
DOB: 04/07/2016
Sire: +B Ain-Ash-Shams G Misha
Dam: SG Land of Havilah ESG Aurora 3*M
Genetic Information
DNA Typed, Parent Verified
G6S: Normal (N/N)
Alpha S1 Casein: B/B
Scrapie Variant: NN/QQ
LA Scores:
2019: 03-05 VG85 VEV+ (First Freshener. Didn't fill well for LA so lacked capacity)
The video above is of Lilly in on July 31st, 2020.
I love, love, love this doe! Lilly is out of our Aurora, who is a stand out doe that is easy to keep weight on and she is an excellent producer and mother.
Lilly is an easy keeper with lots of substance of bone, thanks to her sire, Misha. She has a lovely head with a deep jaw, and is a hardy girl – I'm looking forward to seeing her freshen again!
Lilly scored Excellent in Udder Texture, Front Legs, and Rear Legs; and Very Good in Head, Back, Rump, General Appearance, Dairy Strength, and Body Capacity.
---
Awards:
Lilly earned her 3*M designation as a First Freshener in 2019.

She earned her 3*M in all three categories. She is an AR (Advanced Registry) doe and all her bucklings will have their *B designation as long as their sire is a *B or +B.
---
To view Lilly's ADGA pedigree, click here