**ELITE SIRE** (2010)
Purebred Nubian buck
ADGA Genetics #N001431971
ADGA Registration #PN1431971
VGL #: AGS264
DOB: 01/09/2007
Sire: +*B GOLDTHWAITE BLUE RIDGE
Dam: SG GOLDTHWAITE MAYALOKA 5*M
Genetic Information
Collection on file
G6S Normal
Linear Appraisal:
2008: 01-05 EX90 VEE
Elite Sire – 2010
Description: LIGHT BLUE ROAN, BLACK TRIM, SILVER EARS
Goldthwaite Nubians has this to say about Boot:
A tall, powerful buck linebred on Felicity, from a grand-daughter of *B Lynnhaven Prince of Paradise and Goldthwaite Maya.
This blue roan buck sired most of our beautiful kids in '09 from our older proven brood does. Three of those we showed pulled down BIS wins, and another had a GCH or such. We also had a daughter of one of his first fresheners take her BIS. We showed 4 of his '09 daughters at Nationals that year, and all were in the ribbons, and together took 2nd Jr. Get of Sire to an older yearling group.
We were thrilled to show his first freshening daughter GCH ANGEL GABRIEL, from his half sister B'lou Angel (also sired by Blue Ridge) to her easy permanent championship following a super win over 54 Nubian milkers, including several finished does, at this year's Nebraska State Fair.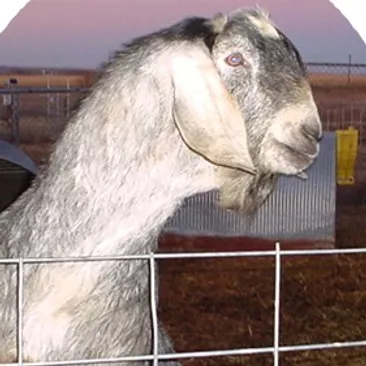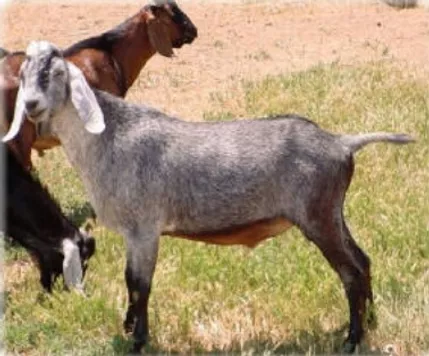 Awards

Bootonniere Progeny in our herd
Land of Havilah Booton's Iris
Land of Havilah Booton's Golden
---
Other Bootonniere Progeny
REFERENCE AND PICTURES courtesy of Goldthwaite Nubians
---
DNA ID Match Testing
In order to confirm parentage of my AI kids, I had Bootonniere's semen DNA tested via VGL (lab). Please feel free to use this information if you need to confirm on your AI kids. You will need the VGL # in the report to test against his markers.