Description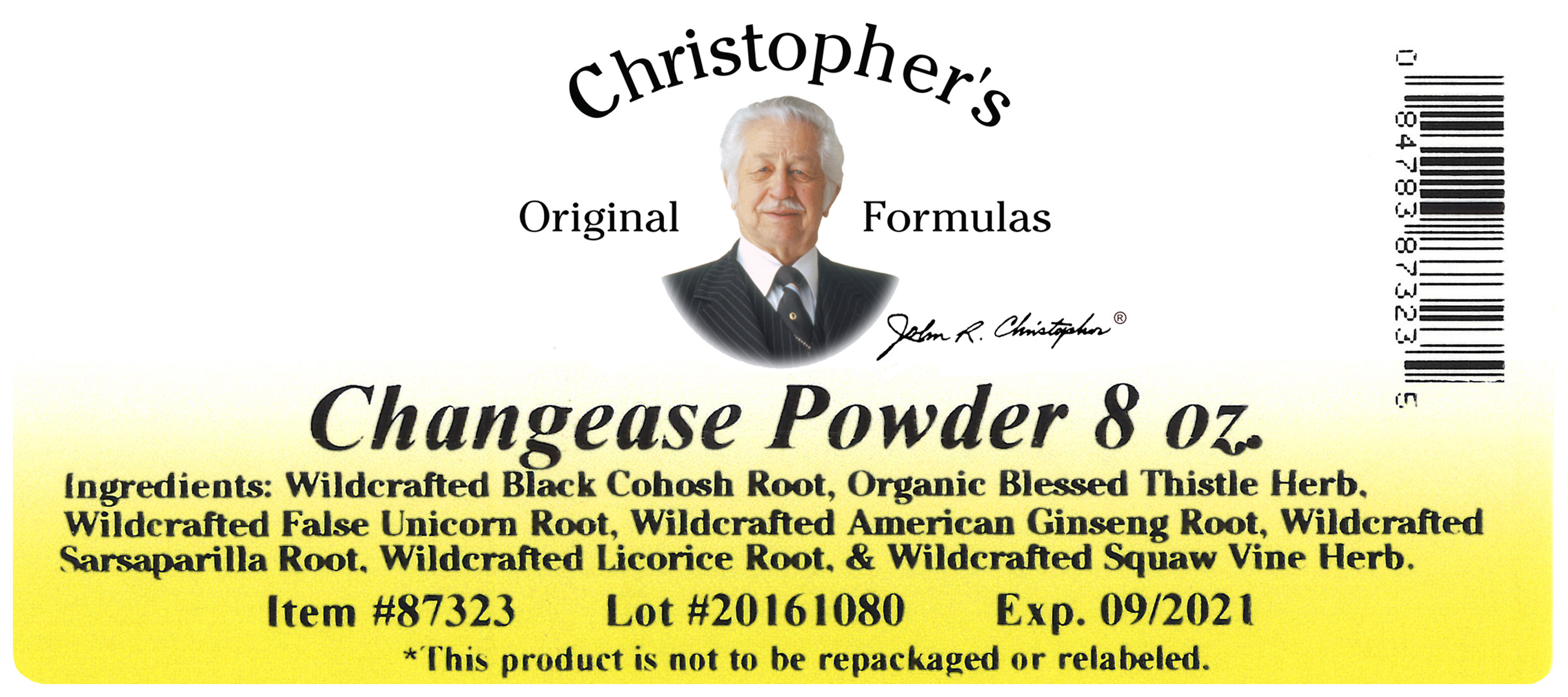 Old Name(s): Changease, Change-O-Life.
This is one of Dr. Christopher's most famous formulas. It has been used historically for hormone imbalance. Hormonal Changease is rich with phytosterols, which are "plant hormones". The body then takes these phytosterols and changes them into human hormones via the liver only upon the body's need.  If not required, the herbs are eliminated from the system without creating imbalance issues. This formula is popular amongst those experiencing hormone imbalance of any kind, menopause, PMS, etc. This formula is safe and time tested for both females and males.
This synergistic blend of herbs is favored by women when experiencing the 'change of life' women often experience hot flashes, mood swings, difficulty sleeping, problems with concentration & fatigue among other symptoms.
Dr. Christopher's Hormonal Changease was designed to aid youths going into puberty, expectant mothers whose hormones sometimes cause mood swings, women going through the change of life and men, too.
Produce Milk: Dr. Christopher reminded us that it requires a certain balance of hormones–estrogens and progesterones–to produce milk. If a woman doesn't seem to be making enough milk, she may want to consider a hormonal imbalance as the cause of this problem.
Rebuilding Weak and Malfunctioning Areas: These are natural herbal foods that are needed by both men and women at all ages. Being "natural"  (wholesome) herbs, the human body can accept, assimilate and use those materials that are needed to produce estrogens and other hormones naturally.  This formula supports the endocrine system in rebuilding the weak malfunctioning areas and help keep the organs healthy so they can supply the proper amounts of hormones and estrogens themselves.
Also available as Capsule & Extract (Hormonal Changease).
MUST BE USED WITH WHEAT GERM OIL.
Proprietary Blend: Black Cohosh, Sarsaparilla Root, Panax Ginseng (American), Licorice Root, False Unicorn Root, Blessed Thistle & Squawvine Herb.
No added Fillers or Chemicals.
Directions: Varies according to individual need. Bulk Formulas can be prepared for Extracts, Capsules, Decoctions, Balsams, Plasters, Fomentations & many other uses. We encourage you to research information on the formula & preparation that works best for you. While we cannot cover every herbal preparation below is a few common methods.
Encapsulating – To fill capsule, simply take the two halves of a capsule apart (one in each hand), and push these halves into powder and toward each other, pressing the halves together again & at the same time compressing the powder. Small encapsulation products that help to capsule 50 herbs at one time are available.
Infusion or Tea – Use 1 teaspoon of cut herb per cup of distilled water. Bring water to a boil, remove from the heat source, then add the applicable amount of herb to the water. Cover & allow to steep for at least 20 minutes (longer for stronger tea). Strain the herb & let stand until cool enough to drink.
Store in a cool, dry place. Keep out of reach of children.