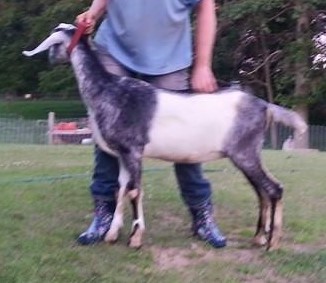 ---
American Nubian doe
***DNA on file***
Registration #N1705754
DOB: 05/9/2014
---
LA Scores:
2016:   02-01 VG85 +V+V
2019:  05-04 VG87 VEVV
---
She is a stunning doe!  I find myself watching her when she moves around the pasture, she consistently catches my eye.  Long, level and strong, with a beautiful head and a graceful carriage.  She is something to behold, and I can't wait to see her freshen for the first time this year (2016).  She comes from a line that is very strong in milk, so we shall see what she can do in a couple months!  Jubilee was awarded her 3*M in November 2016!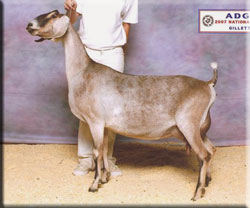 Daydream is a *B BlissBerry CR McDreamy x SG Land of Havilah Sonador *M daughter.  Sonador was the 2011 & 2012 ADGA Top Ten Breed Leader in all 3 categories – milk, butterfat, and protein – as a Recorded Grade Nubian.  McDreamy's dam is the lovely SGCH BlissBerry R Rockin' Robin 2*M – ELITE Doe, and 2006, 2007, and 2010 ADGA Top Ten Breed Leader Nubian, click here to go to McDreamy's page the for an exact breakdown of Robin's placings).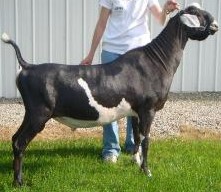 Jubilee's sire is *B Land of Havilah ATL Triumph.  Tri has been throwing some gorgeous kids and we have kept two in our herd – Jubilee and Tori!  He is out of our strongest doe in both DHIR (milk production) and LA (Linear Appraisal), SG Land of Havilah ShekinahGlory 2*M.   Shekinah was #2 on the State of Michigan 2013 DHIR Honor Roll for milk, butterfat & protein, and she earned SG status in September 2013.  Tri's sire (via AI) is SGCH +*B Wingwood Farm Finding Atlantis.
Click here for Jubilee's ADGA pedigree.
Click here for Jubilee's 5 generation pedigree.