Purebred Nubian doe
ADGA Genetics link: N002133130
ADGA Registration #PN2133130
ADGA awards: 5*M, AR
AGS Registration #N-60773
AGS awards: 5*D
VGL Case #ADG19526
DOB: 03/16/2020
Sire: +*B Land of Havilah ATL Triumph
Dam: SG Land of Havilah KSG Ebony 3*M
---
Genetic Information
DNA Typed, Parent Verified
G6S: Normal (N/N)
Alpha S1 Casein: A/B
Scrapie Variant: NS/QQ
---
Velvet's Progeny in our Herd
---
Description
BLACK, CREAM TRIM, SILVER EARS
Velvet is like a carbon copy of her dam, Ebony. If they aren't in the same area I have to look closely to see which one it is. When I think of Velvet all I can think of is how dairy she is. She is built in a way that I know she will put milk in the bucket. She milks very well with a tightly attached, lovely udder. To top it all off, she is an excellent momma. 🙂 Gotta love that!
In 2022, Velvet scored Very Good in Dairy Strength, Body (capacity), and Mammary; and Good Plus in Shoulder Assembly, Front Legs, Rear Legs, Feet, Rump, and General Appearance. Her final score was VG86 +VVV. LA: September 20, 2022.
---
Linear Appraisal Score
2022: VG86 +VVV
---
DHIR (milk test) Results
Year
Age
DIM
Milk #
Fat %
Fat #
Protein %
Protein #
2021
1-01
200
1475#
4.9%
72#
3.4%
50#
2022
1-11
Ext.
305
381
2231#
2673#
5.1%
5.1%
114#
137#
3.6%
3.8%
81#
101#
Velvet's lactations
Herd #34-00-5007. Index #23.
Updated: 03/17/2023
* In Progress
---
Awards
Velvet earned her 5*M designation as a First Freshener in 2021. She earned her *M in the butterfat and protein categories.
Velvet earned her AR on our August 28, 2022 milk test. The AR award provides all of her bucklings with his *B designation as long as his sire is a *B or +B.
---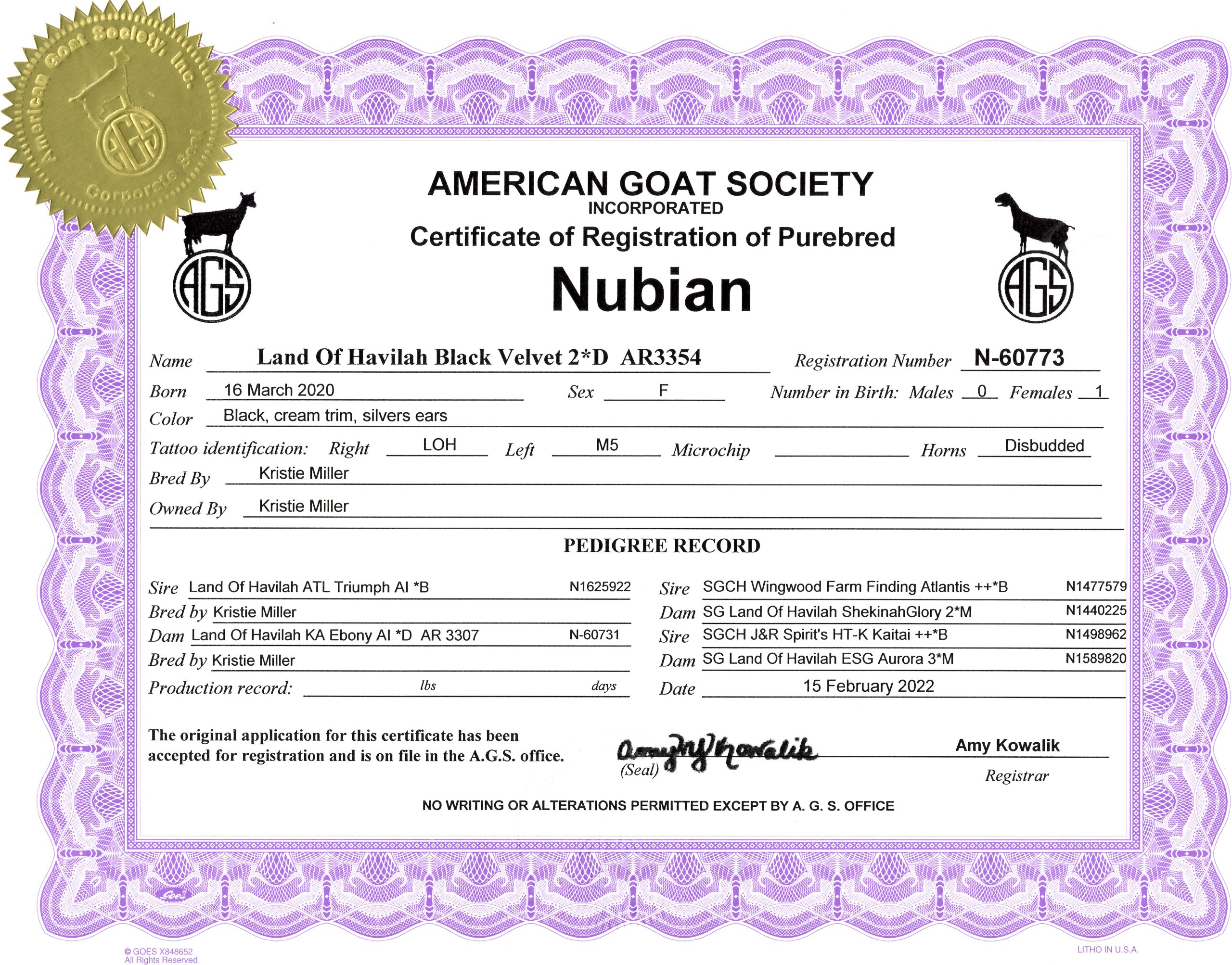 Sire
Her sire, *B Land of Havilah Triumph, EX90 VEE. Triumph has made a huge impact on our herd. He is the result of our 2013 AI adventure of breeding ShekinahGlory to SGCH ++*B Wingwood Farm Finding Atlantis LA: 03-05 EX91 VEE, and he is everything I hoped for and more. Atlantis greatly improved breed character ears, and I think he also moved the thurls higher and forward.
Triumph excels in Shoulder Assembly, Front Legs, Rear Legs, Dairy Strength, and Body Capacity. He is very good in Back, Rump, and General Appearance.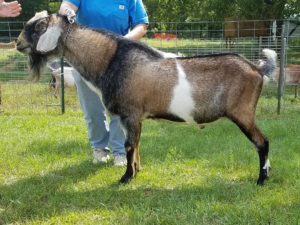 ---
Dam
Ebony is an AI breeding out of our Aurora and the absolutely amazing *Elite Buck*, ++*B SGCH J&R Spirit's HT-K Kaitai! I chose Kaitai in the hopes of adding width and stacking more production, and I'm excited to say that Ebony freshened with a gorgeous, well attached mammary system and she is milking like a champ!
Ebony scored an Excellent in Udder Texture, and Very Good in Rear Legs, Rump, Dairy Strength, and Mammary. (LA: September 14, 2019) Now if I can just get her to pose nicely for a decent picture it would be amazing! 😉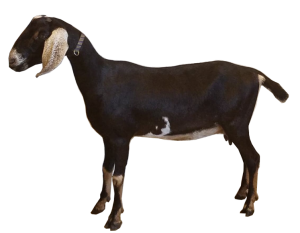 ---
Pictures of Velvet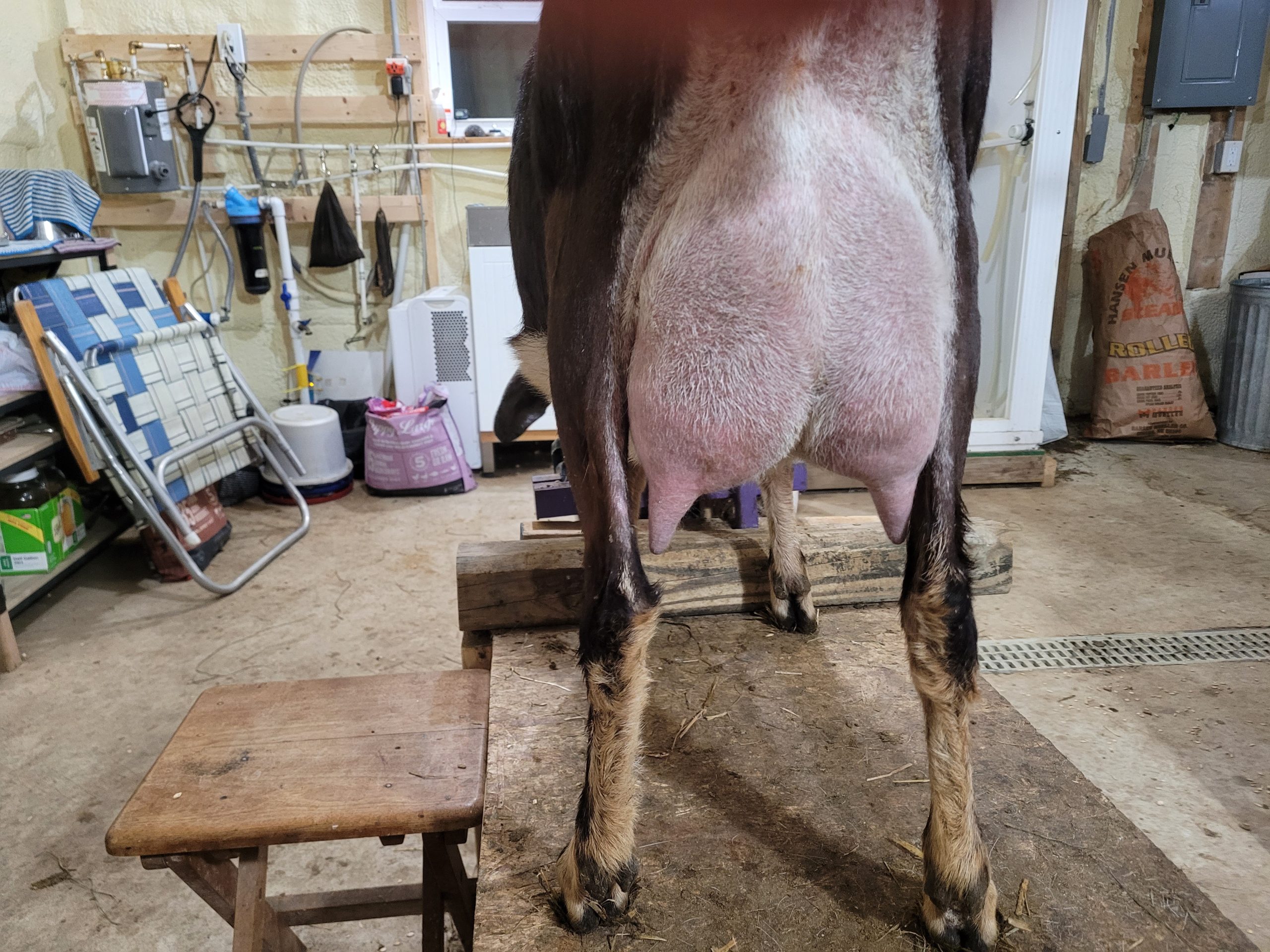 ---
Disease Test Results
Please visit our Biosecurity Test Results page to see our herdwide test results back to 2006.
---
Genetic Test Results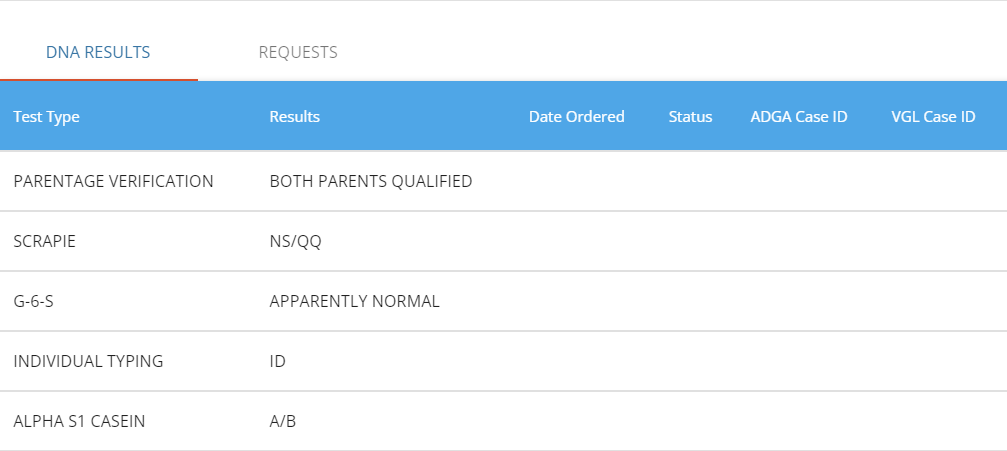 Here are the official test results straight from the lab. You can verify them yourself by clicking this link and inputting the case and report # (found in the pdf's) to see the reports on the UC Davis (VGL) site.
---