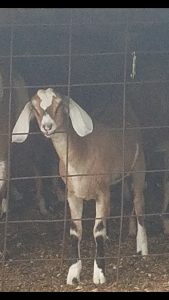 ---
Genetic Information
DNA Typed, Parent Verified
G6S: Normal (N/N)
Alpha S1 Casein: A/N
Scrapie Variant: NN/QQ
---
Starburst's Progeny in our Herd
---
Description
Red roan, white splashes, poll, nose, and ears.
Starburst is out of Midas x Glory. She is very wide with exceptional substance of bone. She freshened for the first time as a yearling and earned her *M in all three categories (Milk, butterfat, protein). She holds her weight and milks well, which is something that I breed for in my herd. She is sweet natured and easy to work with. We chose to cut her lactation short and dried off early in October of 2021 so that we could schedule a surgery for her at Michigan State University to repair a damaged salivary duct which had created a salivary cyst that was impacting her wellbeing – causing ruminal acidosis due to lack of saliva going to the proper area. We gave her the year off in 2022 to help her get back on the top of her game. She is a treasured member of our herd, our herd's health is top priority for us. 🙂
---
---
Linear Appraisal Scores
ADGA did not have appraisal available in 2020 or 2021 and she was dry in 2022.
2023: Starburst scored Excellent in Dairy Strength and Body Capacity. Very Good in Rear Legs and Rump.
2023: 04-02 VG85 GEEG (June)
---
AGS Classification Scores
We also participate in the American Goat Society's Classification program. In classification, an animal is given a final percentage score based on 100 being perfect. In addition, each area of the animal is evaluated and assigned points based on how close that part comes to being ideal. For example, if an animal is given four (4) points out of the allotted five (5) on teats, that is 80%, and the owner knows that the teats on that animal are only 80% of the ideal. The Classifier inputs the score of each area of the body into an app on their phone. After they finish, the program calculates the final score, which the Classifier tells you right away. AGS sends you the score breakdown via email within a day or two, but I had my score breakdown much faster than that. The following pdf is the score breakdown.
2023: 04-02 Excellent (EX) 90.0
---
DHIR (milk test) Results
Year
Age
DIM
Milk #
Fat %
Fat #
Protein %
Protein #
2020
1-00
Ext:
305
311
1894#
1908#
5.2%
5.2%
99#
99#
3.8%
3.8%
71#
72#
2021
2-00
191
1648#
3.3%
55#
2.9%
48#
2023*
04-01
178
1269#
4.6%
59#
3.0%
38#
Starburst's lactations
Herd #34-00-5007. Index #22.
Updated: 11/20/2023
* In Progress
We cut her lactation short to have surgery to repair a salivary duct in October 2021.
She was dry for 2022 to allow her to recover fully without the stress of pregnancy.
---
Awards
Starburst earned her 2*M designation as a First Freshener in 2020.

She earned her *M in all three categories. She is an AR (Advanced Registry) doe and all her bucklings will have their *B designation as long as their sire is a *B or +B.

---
Registration/pedigree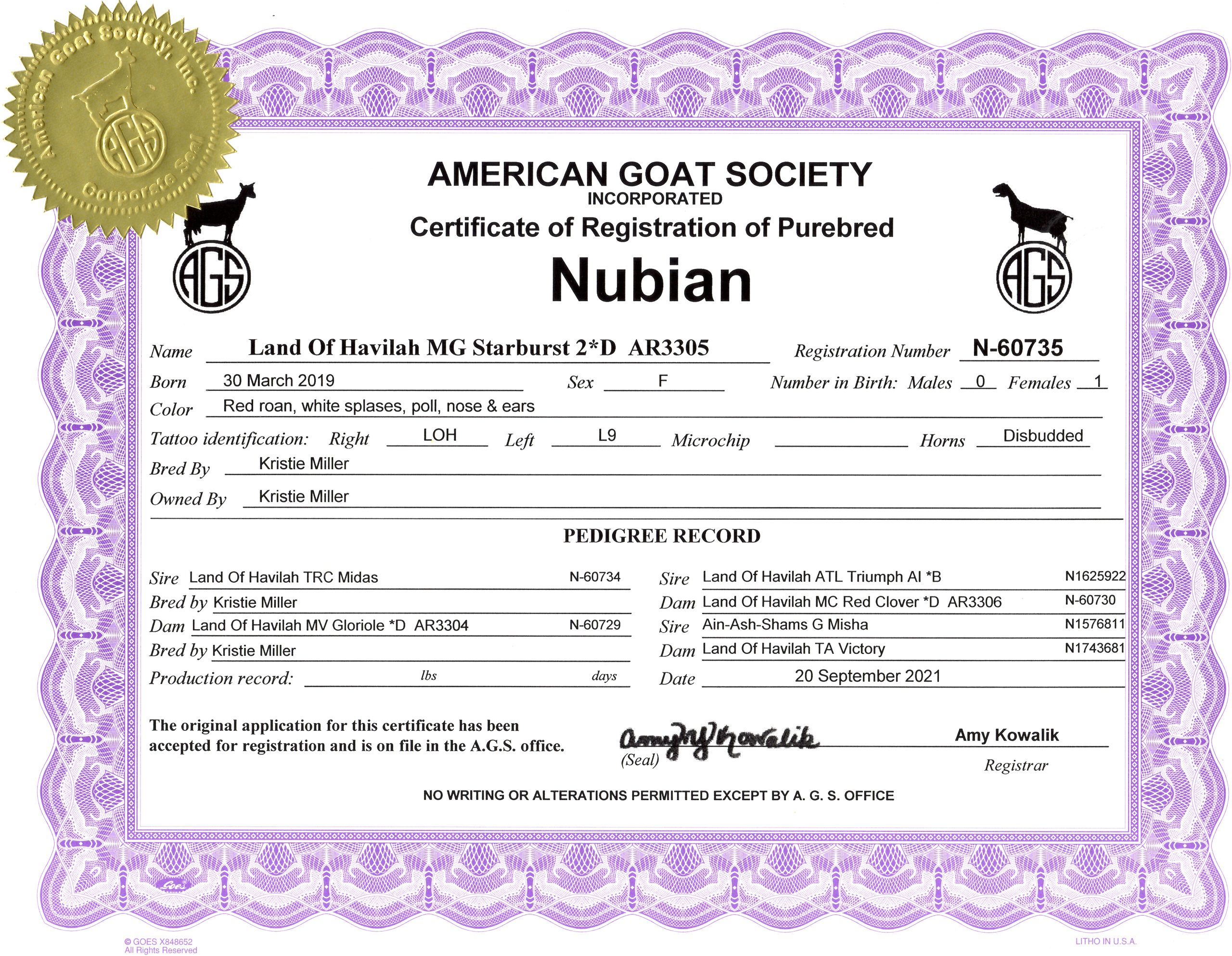 ---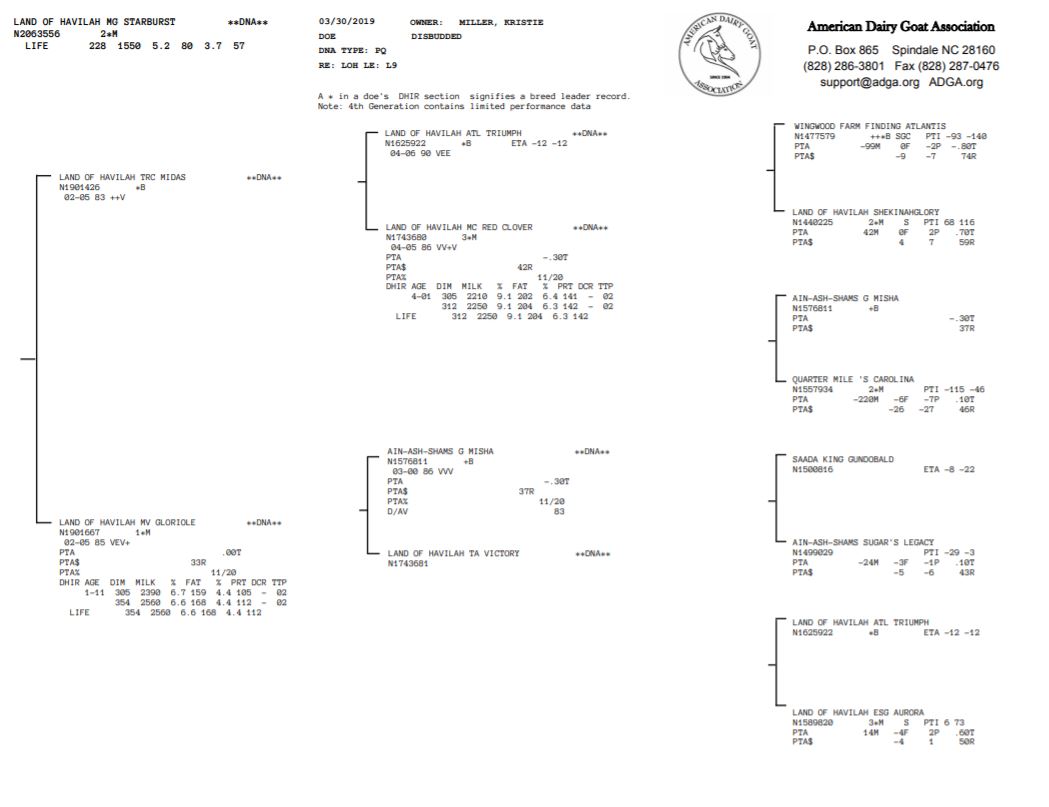 ---
Starburst's sire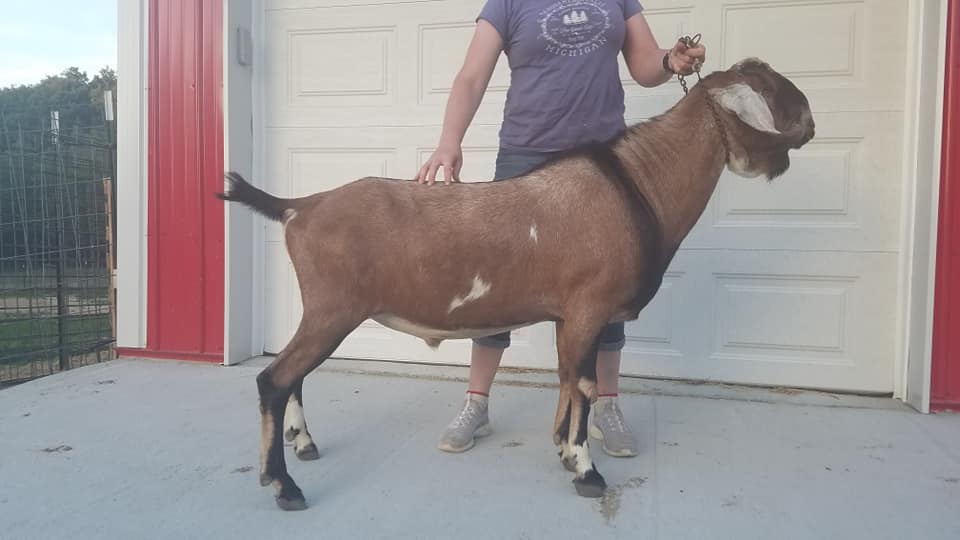 Starburst's sire is *B Land of Havilah TRC Midas. Midas is out of *B Land of Havilah ATL Triumph, EX90 VEE, and Land of Havilah MC Red Clover 3*M.

Midas scored Very Good in Head, Front Legs and Rear Legs in our September 2019 Linear Appraisal.

He throws a beautiful head and long bell shaped ears, along with great width and substance of bone, and his kids grow very well.
---
Starburst's dam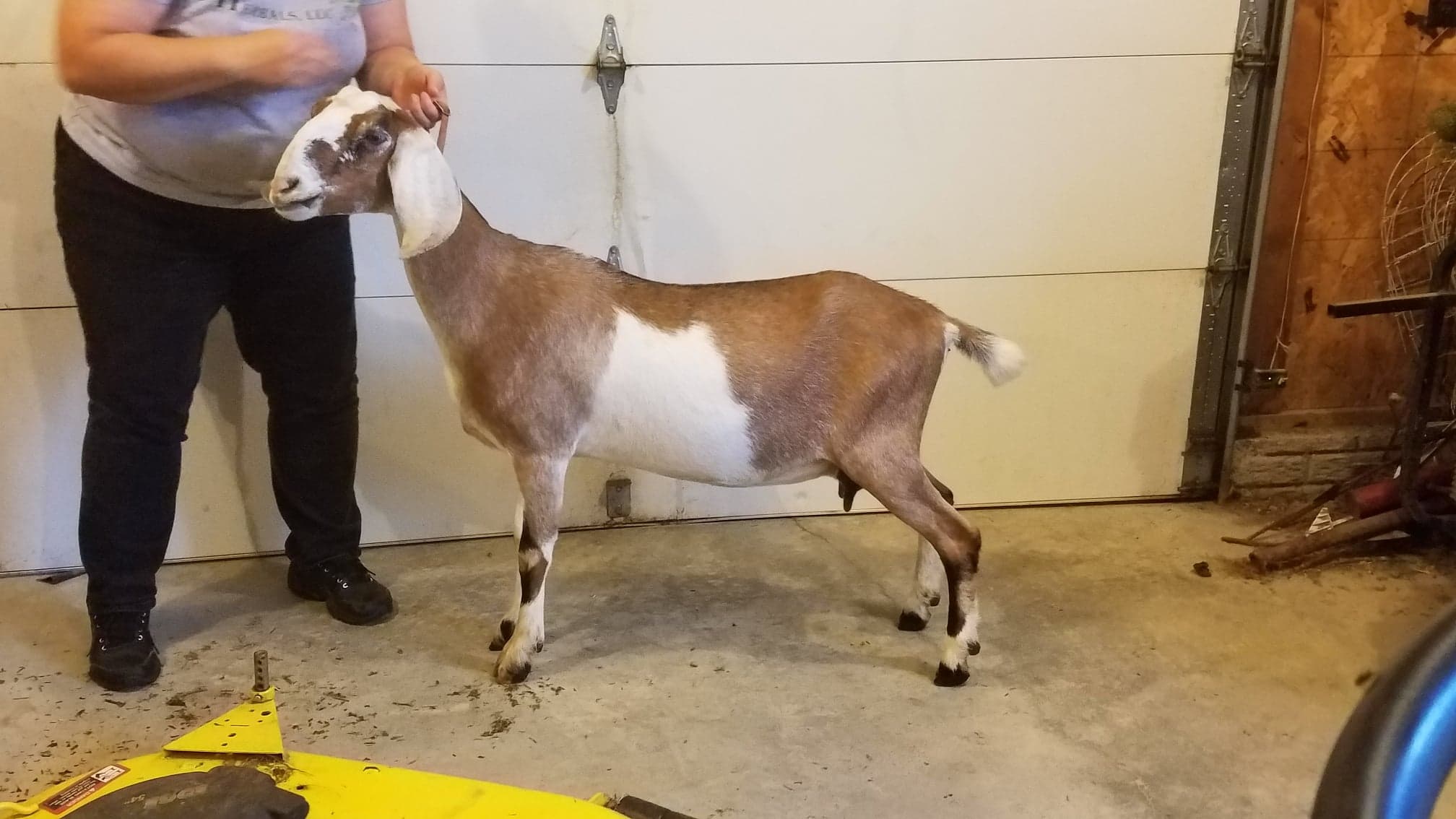 Starburst's dam is Land of Havilah MV Gloriole 1*M. She is out of +B Ain-Ash-Shams G Misha, EX90 EVE, (Saada lineage) and Land of Havilah TA Victory (Triumph x Aurora).

As a first freshening 2 year old, Glory scored Excellent in Udder Texture, Rear Legs, and Dairy Strength; and Very Good in Head, Shoulder Assembly, Front Legs, Feet, Rump, General Appearance, and Body. (LA: September 14, 2019). She is exceptionally wide with great substance of bone.
---
Disease Test Results
Please visit our Biosecurity Test Results page to see our herdwide test results back to 2006.
---
Genetic Test Results

Here are the official test results straight from the lab. You can verify them yourself by clicking this link and inputting the case and report # (found in the pdf's) to see the reports on the UC Davis (VGL) site.
---