Description
The simple BioEnergetiX scan takes about 60 seconds to complete. You can complete the scan from the comfort of your home, anywhere in the world.  The remote scan requires a BioEnergetiX Remote Scanner device OR a NES miHealth Pro device (either can be added to the scan package – simply select it as an option), a laptop or desktop computer, and an internet connection to send the completed scan to us for evaluation.
WHAT YOU GET:
BioEnergetiX Remote Scanner device

, if this option is selected. You will NEED this Remote Scanner device OR a NES miHealth Pro device to scan from your location, otherwise you would need to schedule a scan in person. This is a ONE TIME purchase and can be used over and over again for future scans. This scanner alone is a $250 value, but we give you a

huge

discount to make these scans more available to our clients so we only charge $75 when you buy the remote scanner device as part of our packages!!
A

consultation

with Kristie to review your scan results and show you around the scan results screens for future reference ($100 value)
To make this program more affordable, ONE bottle of scan specific drops are included in your scan package. Additional bottles can be purchased here, if you desire, as you may more than one bottle for a 30 day supply.  A shipping cost is initially charged for the extra bottle(s). Please note, if you order the additional bottle(s) and your scan package at the same time, we will refund the shipping cost to you. (USA only)
You can login to the exclusive

online portal

to view the scan and recommendations.
A BIOENERGETIX SCAN REVEALS:
Energetic blockages: The scan identifies energy blockages in the body-field and pinpoints the strength of the energy being produced by various systems and organs.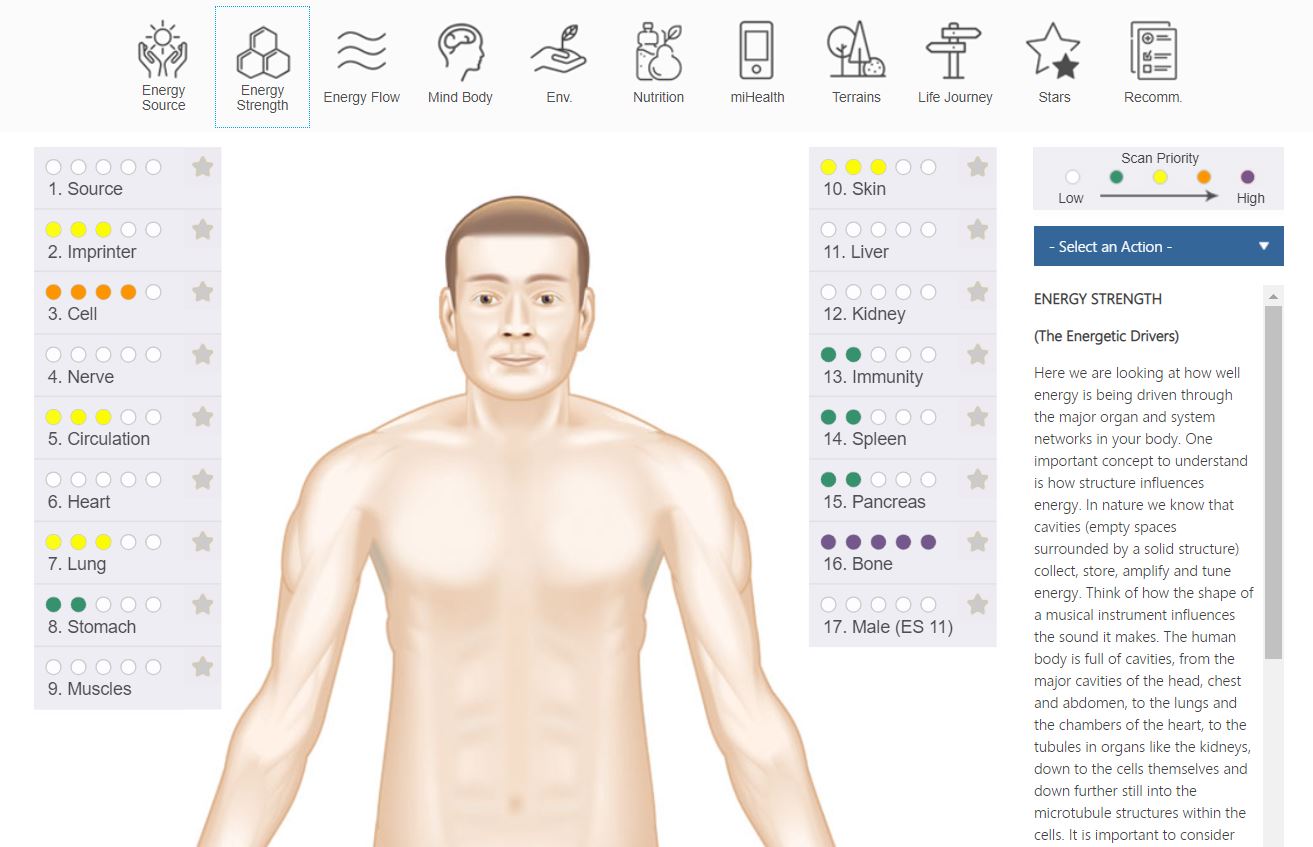 ---
Nutritional screen: The scan report will highlight current challenges in the body's management of nutrients, metabolic processes, and difficulty with certain foods. Depending on the scan results, our recommendations may include dietary suggestions, herbal nutritional supplements, essential oils, in addition to the Infoceuticals indicated in the scan.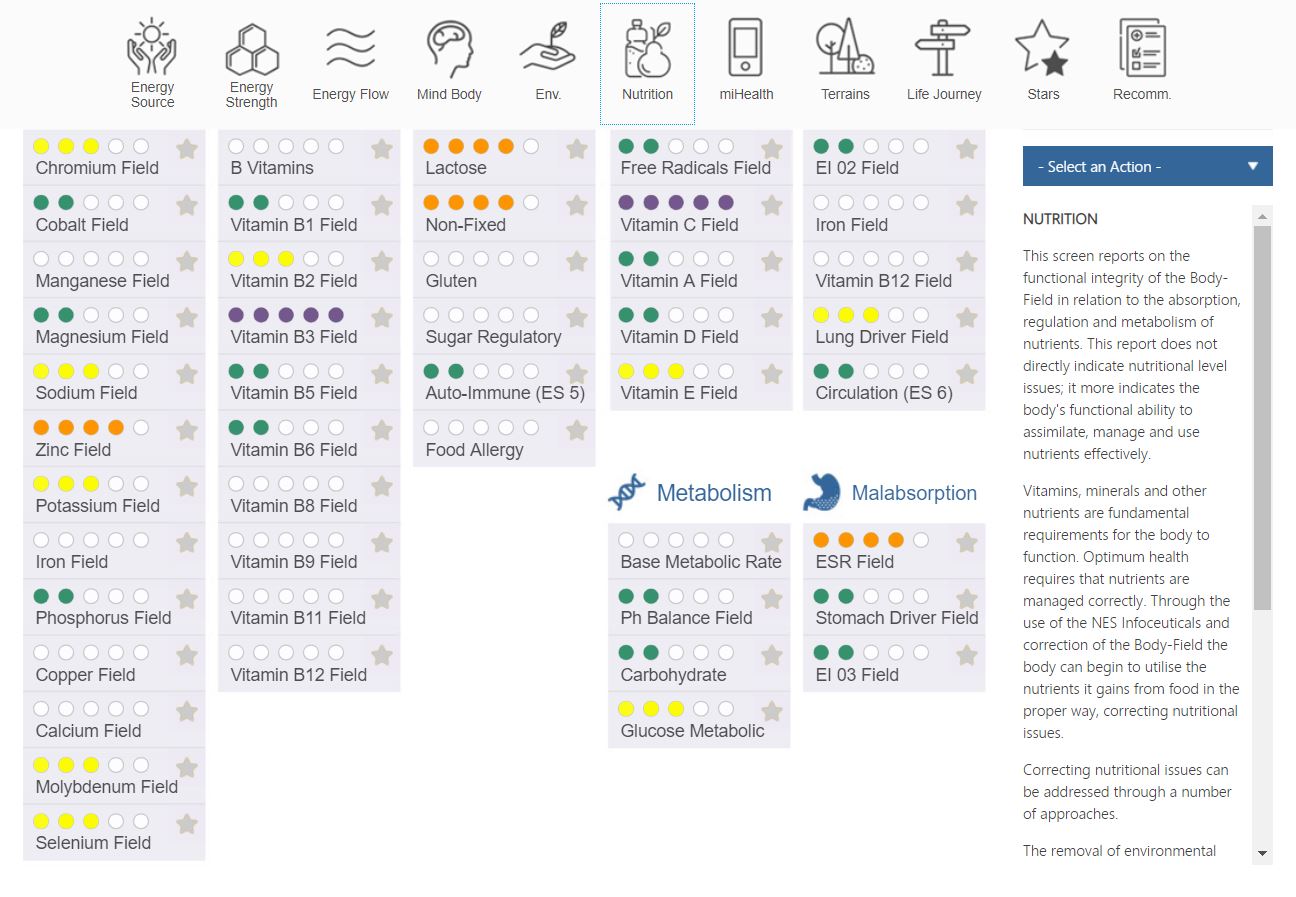 ---
Environmental factors and sensitivities: The BioEnergetiX scan determines  environmental factors such as heavy metals, chemicals, and EMFs and the body's ability to manage their impact.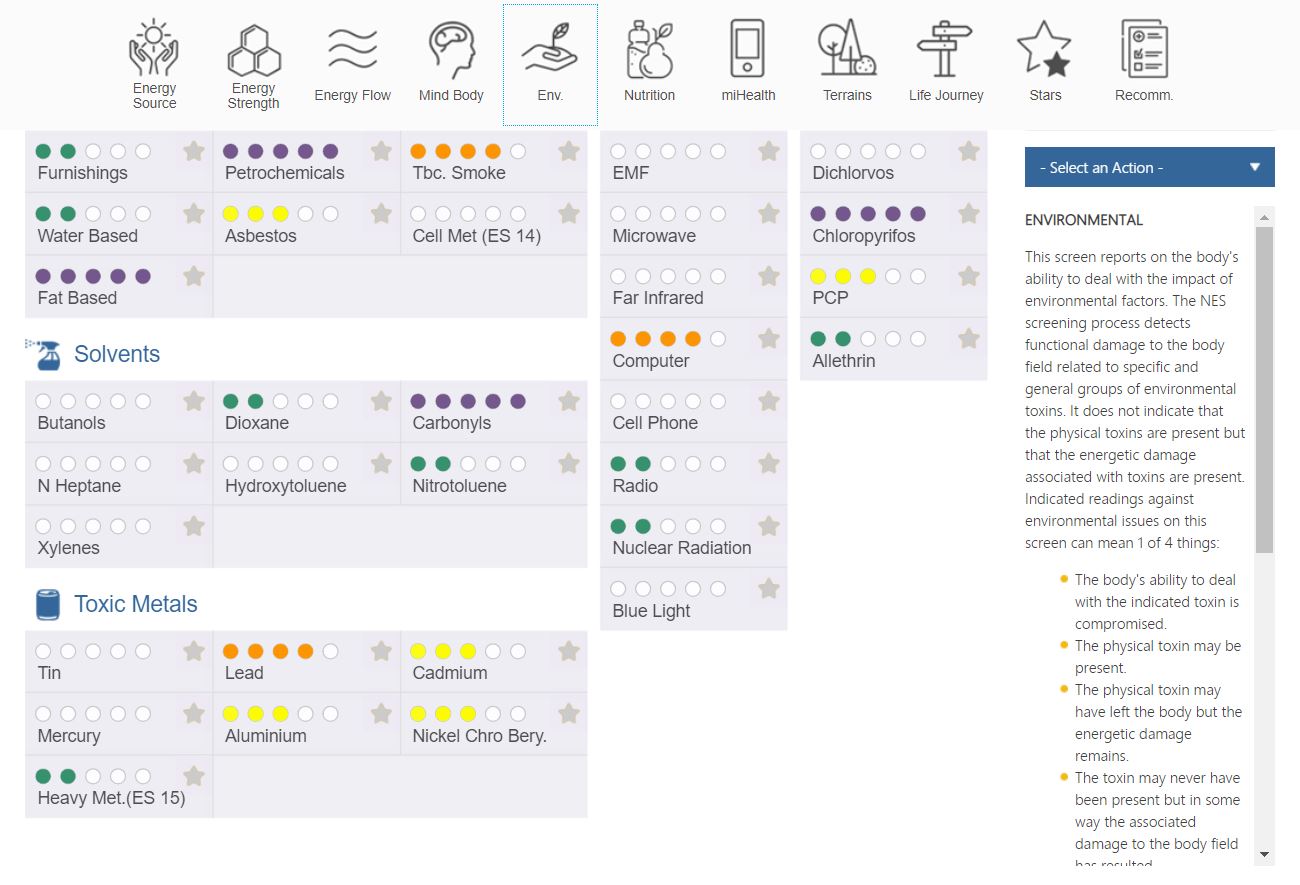 ---
Emotional and mental considerations: Past shocks and traumas can negatively impact health. The scan may help you identify possible correlations of chronic health issues and negative emotions.
miHealth Pro PEMF Device. When I work with an animal (or human) in person, I have the ability to utilize my NES miHealth Pro PEMF device. Here is an example of how a veterinarian uses the Animal Total WellNES scan (BioEnergetiX is the newest version of this software) and miHealth Pro PEMF Device in his practice:

HOW OFTEN DO I NEED TO DO A BIOENERGETIX SCAN?
It's recommended that you re-scan approximately every 30 days. Ideally you want to do this a few days before you run out of infoceuticals so that there is no disruption in your program.
We strongly recommend that our scan clients make at least a six month commitment to this protocol. This protocol is not a magic-pill drive-thru therapy. While many do indeed get instant results, it takes time for the body to make, assimilate, and HOLD those changes. And that is what we want: total transformation that is lasting and real. Our reputation rides on your results and we are dedicated to helping you reach your goals.
For follow up scans, you have two options:
Scan and Consultation Option: Receive a 30 minute consultation with our BioenergetiX practitioner to go over the results online. You can also login to the online portal to view your scan results at your leisure (or PDF of reports will be sent to you for your animal), and

ONE bottle

of drops 

is included

in the price of your scan. According to the scan recommendations. 
Scan and Portal View of Results, No Consultation: View the scan results on the online portal, and

ONE bottle

of drops 

is included

in the price of your scan. According to the scan recommendations. 
Scanner Rental:
The BioEnergetiX Remote Scanner device may be returned within two weeks of purchase, a rental fee for the use of the scanner will be deducted and a refund issued via PayPal for the remainder. 
ADDITIONAL INFORMATION:
BioEnergetiX truly is the future of medicine. It can address your health in a way that no other program can. A BioEnergetiX WellNES scan  is a holistic alternative approach to health care. It can be done from the comfort of your home or while traveling. Remote scanning is a ground-breaking bioenergetic tool that takes advantage of today's high speed technology. It provides our NES Practitioner with an accurate "picture" of your health status from a distance.
HOW A REMOTE SCAN WORKS
Using the Remote Scanner device OR a NES miHealth Pro device that connects to your computer and following a few instructions, you perform a scan or yourself, your animal, or family member/friend. The remote scanner is a device that you place your hand on to detect your energetic field.  The remote scanner technology quickly records the energetic body fields. After analysis, a customized wellness program is recommended. The program includes liquid remedies called Infoceuticals. Infoceuticals are imprinted with energetic information that addresses priority imbalances in your body. A nutritional program will also be discussed, depending on the scan results.
In accordance with FDA requirements we must state that, Land of Havilah, BioEnergetiX, NES Health and its products do not cure, prevent, diagnose, or treat disease. If you have a medical condition or concern, please also consult the appropriate healthcare professional. NES and its claims have not been evaluated by any Government agency or regulatory organization.