Welcome to our family store!
As a quick intro, my name is Kristie Miller. I have 3 awesome kids: Michael, Daniel, and Rebekah! They help me with the farm and store, and cover for me if I'm traveling – which is SUCH a blessing!
We are homeschoolers and we have a lovely farm that is populated by our beautiful Nubian dairy goat herd and our livestock guard dog, Happy. 🙂 I earned my Master Herbalist and Aromatherapist certifications  a few years ago, and I'm currently studying homeopathy which I have successfully used for our family and our animals for many years. I'm happy to have been instrumental in helping many people and their animals reclaim their health and vitality through herbs and other holistic methods. My training is for humans, I also have extensive practical experience using herbs for animals and I've had pets and horses for most of my life. I've also had the pleasure of having exotic pets, and working with several types of wild animals. I've studied with veterinarians, and I love to work closely with them if they desire. All our Land of Havilah Herbals brand products that I have created go through the same strict testing protocol that we use for humans, AND we go further and test for heavy metals/lead (which is not a requirement). 
Here at Land of Havilah Herbals, we place a high priority on customer service and support, so please Contact Us if you have questions or concerns about the items you ordered from us. I will personally answer your email to provide order and  product support. This support is limited to products you ordered through our store, please provide an order number to take advantage of this free service. For items purchased elsewhere, we have consultations available.
~ Kristie Miller, MH, CA, NES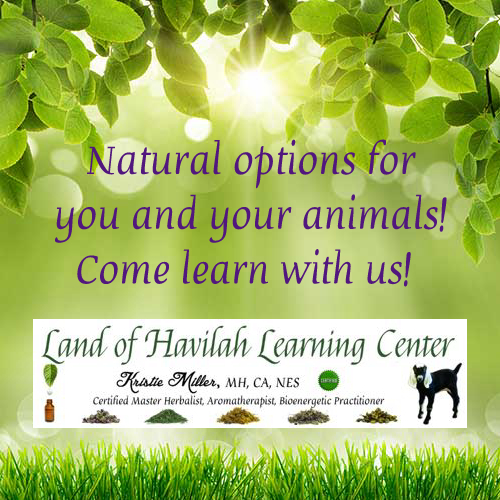 Are you looking for your free class that comes with your Land of Havilah Herbals product? Visit our Instructions page.
Membership site! Do you have questions or want to learn even more about how to use herbs and essential oils for your family and animals? Visit the Land of Havilah Learning Center membership website to check out our paid monthly subscriptions – all classes there are On Demand style to give you fast access to information on using herbs and essential oils safely and effectively for your family and your animals.
---
News & Updates
To stay up to date with our latest news, sales, and health based information, please join our MeWe group.  MeWe is FREE, but they do advertise their premium service when you go there to sign up, just skip that part and it will take you to the free sign up area.
---
Our MeWe Goat Care Group

We invite you to join our brand new goat care group on MeWe!
---
Featured Products
---
Product Categories
---
Disclaimer:

  In compliance with FDA requirements/guidelines, we must legally state that "T

he information and products offered on this website are not intended to diagnose, treat, cure, or prevent any disease. The information and statements presented on this site have not been evaluated or approved by the FDA. The information on this site is based on the traditional and historic use of herbs as well as personal experience, and is provided for general reference and educational purposes only.  This information is not intended to diagnose, prescribe or treat, as those things are reserved for licensed medical practitioners.  The information on this website is for educational purposes only. This information and products are not intended to replace medical advice."  We present the products and the information supplied on our website without guarantees, and we disclaim all liability in connection with the use of these products and/or information.  Any person making the decision to act upon this information is responsible for investigating and understanding the effects of their own actions.  Please read our
Services & Conditions of Use and Limitation of Liability
policy.