Welcome to our store! My name is Kristie, and I am a Certified Master Herbalist and a Certified Aromatherapist.  My training is for humans, I also have extensive experience using herbs for animals and I am a lifelong pet and horse owner. I've also had the pleasure of owning some exotic animals, and working with several types of wild animals. I've studied with veterinarians, and I love to work closely with them if they desire. All the products in our Store are formulated and packaged for humans with the exception of our Land of Havilah Parasite Formula mixes, which I created for our Nubian dairy goats (Regular: #PL199 Regular formula) and the Equine/Camelid version (#PL213) for my horses. All Land of Havilah products that I have created (I have a few now, in addition to the Parasite Formula) go through the same strict testing protocol that we use for humans, AND we go further and test for heavy metals/lead (which is not a requirement). 
Here at Land of Havilah Herbals, we place a high priority on customer service and support, so please Contact Us if you have questions or concerns about the items you ordered from us. I will personally answer your email to provide order and  product support. This support is limited to products you ordered through our store, please provide an order number to take advantage of this free service. For items purchased elsewhere, please contact the seller for support, or purchase and schedule a consultation, or see our new educational membership based website: Land of Havilah Learning Center.
~ Kristie Miller, MH, CA, NES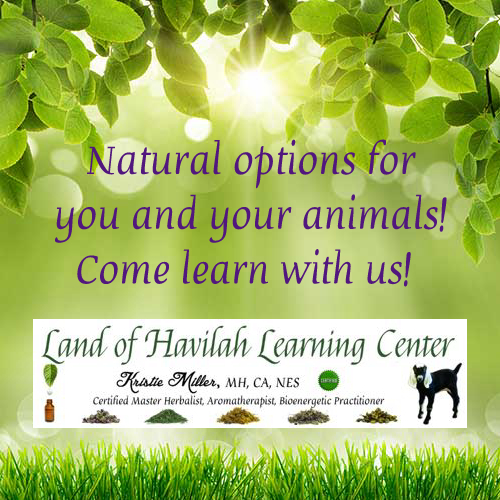 Have questions or want to learn more about how to use herbs and essential oils for your family and animals? See our Land of Havilah Learning Center website for fast access to information on using herbs and essential oils safely and effectively.
To stay up to date with our latest news, sales, and health based information, please visit our Facebook news feed.  
---
Featured Products
---
Product Categories
---
Disclaimer:

  In compliance with FDA requirements/guidelines, we must legally state that "T

he information and products offered on this website are not intended to diagnose, treat, cure, or prevent any disease. The information and statements presented on this site have not been evaluated or approved by the FDA. The information on this site is based on the traditional and historic use of herbs as well as personal experience, and is provided for general reference and educational purposes only.  This information is not intended to diagnose, prescribe or treat, as those things are reserved for licensed medical practitioners.  The information on this website is for educational purposes only. This information and products are not intended to replace medical advice."  We present the products and the information supplied on our website without guarantees, and we disclaim all liability in connection with the use of these products and/or information.  Any person making the decision to act upon this information is responsible for investigating and understanding the effects of their own actions.  Please read our
Services & Conditions of Use and Limitation of Liability
policy.