Purebred Nubian doe
ADGA Genetics link: N002133131
ADGA Registration #PN2133131
ADGA awards: 3*M, AR
AGS Registration #N-60786
AGS awards: 3*D
VGL Case #ADG19523
DOB: 3/19/2020
Genetic Information
DNA Typed, Parent Verified
G6S: Normal (N/N)
Alpha S1 Casein: A/B
Scrapie Variant: NN/QQ
Sire: *B Land of Havilah TRC Midas
Dam: SG Land of Havilah ShekinahGlory 2*M
---
Description
RED ROAN, WHITE SPLASHES, POLL & EARS
In 2022, Honey scored Very Good in Front Legs, Rear Legs, Dairy Strength; and Good Plus in Head, Shoulder Assembly, Feet, Rump, General Appearance, and Mammary. Her final score was 02-03 83 +VG+. LA: September 20, 2022.
---
DHIR (official milk test)
Honey freshened for the first time at one year and 11 months old, and she came out of the gate flying at 19 DIM (Days In Milk)!
Year
Age
DIM
Milk #
Fat %
Fat #
Protein %
Protein #
2022
1-11
Ext.
305
365
2216#
2572#
6.0%
5.9%
133#
153#
4.0%
4.0%
88#
104#

Honey's lactations
Herd #34-00-5007. Index #27.
Updated: 03/17/2023
*In Progress
---
Linear Appraisal Scores
2022: 02-03 83 +VG+
---
Awards
Honey earned her *M in all three categories (milk, butterfat, and protein) on our September 22, 2022 milk test. She is an AR (Advanced Registry) doe and all her bucklings will have their *B designation as long as their sire is a *B or +B.
---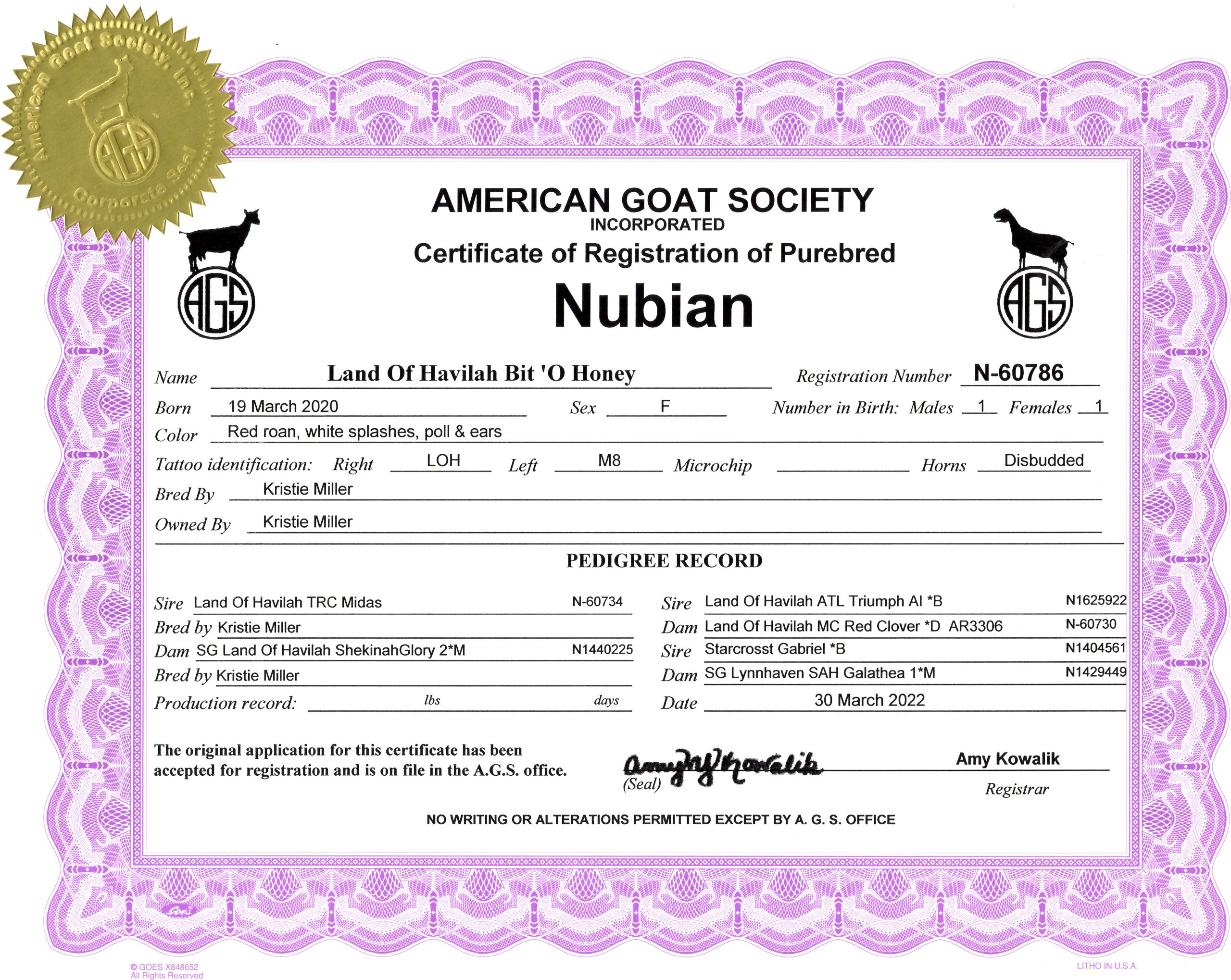 Sire
Honey's sire is *B Land of Havilah TRC Midas. Midas is a gorgeous buck, he is very good in head, front and rear legs, and body capacity. He is exceptionally wide with great substance of bone, which he passes on to his kids. ADGA hasn't been able to provide us with a linear appraisal since 2019, so I'm excited to see how he scores as a mature buck and seeing how his daughters appraise.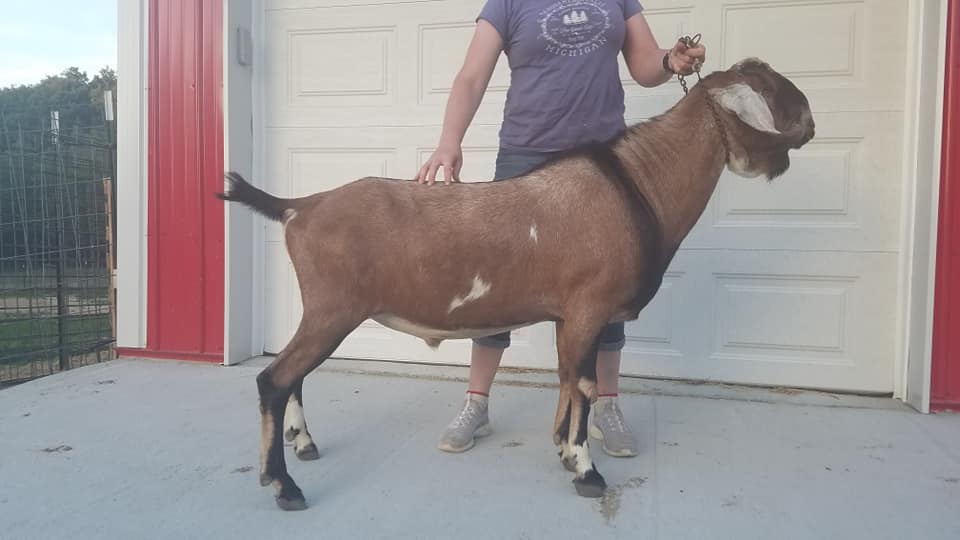 ---
Dam
Honey's dam is SG Land of Havilah ShekinahGlory 2*M. Shekinah was an excellent doe and she blessed us with Honey before she passed in 2021.
LA Score:
2010: 02-02 84 VV++
2011: 03-04 86 +V+E
2012: 04-03 VG88 VEVV
2013: 05-05 VG86 VEVV
2014: 06-02 VG88 VEVV
Shekinah was#2 on the State of Michigan 2013 DHIR Honor Roll for milk, butterfat & protein.
Shekinah earned SG status in September 2013.
She is long bodied, has nice leg placement and angulation. I really like how solid and long her body is, her ears are an improvement over her dam's, as they go over an inch past her nose. She has a nice roman nose, and she is really smart, plus she's very friendly and easy to work with. She excels in Dairy strength and was very good in Front and Rear Legs, Feet, Back, Rump, Udder Texture, General Appearance, Body Capacity, and Mammary.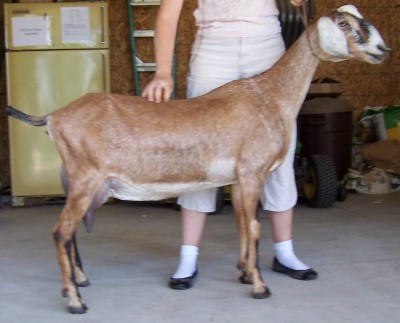 ---
Disease Test Results
We test annually, our entire herd is negative for CAE, CL, and Johnes. We've also tested for Brucellosis and Q-Fever and are negative for those as well. Results can be seen on our Biosecurity Test Results page.
---
Genetic Test Results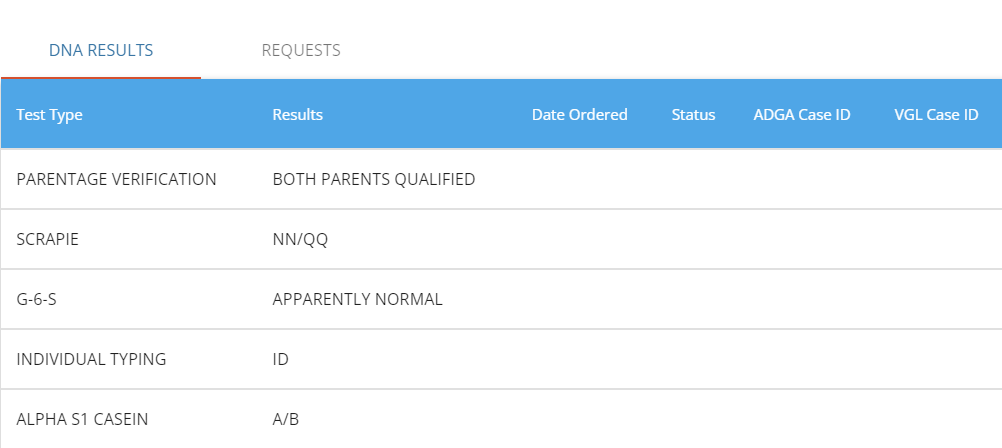 Here are the official test results straight from the lab. You can verify them yourself by clicking this link and inputting the case and report # (found in the pdf's) to see the reports on the UC Davis (VGL) site.
---