G6S Normal
Deceased.
Dam: SGCH Blissberry Rockin' Robin 2*M  Deceased
Robin was everything a herd sire dam should be and more.  Her offspring have proven themselves to be very competitive in the show ring as well as production!  At the 2007 ADGA National Show, Robin was Third place Three Year Old and won production awards for Highest 305 Milk and Highest 305 Butterfat and she was also a part of Blissberry's 3rd place Dairy Herd.
Sire: *B Kastdemur's Californication
Cal is a tall, upstanding, long bodied, and level buck with an outstanding pedigree.  His Dam. SGCH Kastdemur's Teremity 5*M EX93 (EEEE) is another doe that is everything a herdsire dam should be! Temerity not only had an amazing linear appraisal score, she also had an outstanding show career. Being ADGA National Champion in both 2008 and 2009!! Cal's sire has sired some outstanding nubians so him crossing with Temerity was a great match!
Offspring of Robin to Remember (Maternal Siblings to McDreamy):
SGCH Blissberry FM Rockstar 3*M
SGCH Blissberry Rock My World 3*M EX91 – 2012 ADGA Reserve National Champion, Reserve Best Udder & Total Performer
*B CH BLISSBERRY FT ROCKY ROAD 89 VVV
*B BLISSBERRY MW ROCKETEER 90 EEE
3*M SGCH BLISSBERRY ROCKIN' GOOD TIME 89 VEVV
Pedigree for *B BlissBerry CR McDreamy 
Purebred Nubian buck
DOB: 04/16/2011
Tested CAE, CL, and Johne's Negative
G6S Normal (by direct blood test)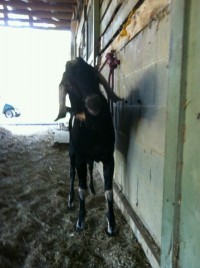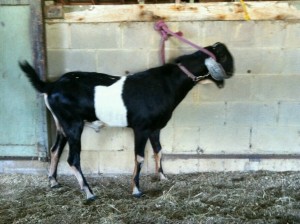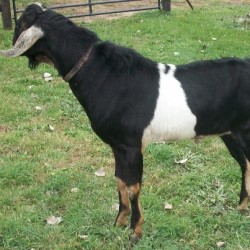 McDreamy's 2012 daughter: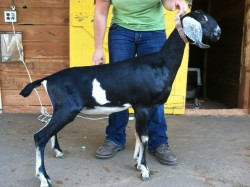 Caprine Divas Glamorous Gilda
Photos courtesy of Everlasting Springs, Caprine Divas, Wingwood Farm,  Kastdemur's, and BlissBerry dairy goats
Sire

*B Kastdemur's Californication

LA: 01-03 VG86 VVV

SS

++*B Kastdemur's King of the Hill

ELITE

SSS

++*B Brown Sugar's Crown Ambassador

LA: 03-01 EX90 VEE

ELITE

1992, 1994, and 1997 National Show Premier Sire

SSSS

++*B Ker-A-Tin Acres Royal Majesty

DSSD

SGCH Brown Sugar's Chardonnay 5*M

LA: 05-10 EX91 EEEE

DHIR

AGE  DIM  MILK   %  FAT   %  PRT DCR TTP
1-08   242   2350   4.5  106  0.0    0       –       –
2-09   156   1870   4.5    85  0.0    0       –       –
6-09   199   1440   5.1    73  0.0    0       –       –
7-06     80     510   4.7    24  0.0    0       –       –
LIFE   677   6170   4.7  288  0.0    0

SSD

GCH Lassenwood Miller Kiona 1*M

LA:  05-05 VG89 VVEE

SSSS

*B Prairie-Patch Miller

LA: 02-04 GP84 ++V

SSSD

Kastdemur's Crown Kailua

LA: 06-04 86 V+VV

SD

LA: 05-06 EX93 EEEE

DHIR

AGE  DIM  MILK   %  FAT   %  PRT DCR TTP
2-11   305   2690   4.7  126   3.7   99    96   20
320   2770   4.7  131   3.7  103   96   20
3-11   305   2800   4.8  133   3.7  104  100  20
310   2830   4.8  135   3.7  106    –      –
5-00   287   2460   4.6  113   3.7    91  100  20
6-00   227   2000   4.6   92   3.7     73   96   20
7-00     90     770   4.2   32   3.4     26   72   20
LIFE 1234  10830  4.6  503  3.7   399

ADGA National Show:

2008 GCH & BU

2009 GCH

SDS

Sweet Harvest Show Time

LA: 01-02 VG85 VVV

SSSS

Little-Bic's Rain Dancer

SSSD

CH Sweet-Harvest Show Me Yours

SDD

LA:  05-01 EX91 EVEE

DHIR

AGE  DIM  MILK   %  FAT   %  PRT DCR TTP
1-11   291   2260   5.1  115  4.0   90    98     20
2-10   275   2330   4.8  111  3.9   90    93     20
3-11   299   1750   4.6    80  3.8   67    96     20
5-00   124     990   4.6    46  3.6   36    62     20
LIFE   989   7330   4.8  352  3.9  283

ADGA National Show:

2003 JGCH

SDSS

SG ++*B Kastdemur's LH Full Service

LA: 02-05 EX91 EEE

 

SDDD

GCH Kastdemur's Aubree 3*M

LA: 06-00 EX92 EEEE

DHIR

AGE  DIM  MILK   %  FAT   %  PRT DCR TTP
1-08   305   2000   5.0   99    3.7   73     –      –
7-09   111     740   4.3   32    3.5   26     –      –
LIFE  416    2740   4.8  131   3.6   99

ADGA National Show:

2001 GCH

2002 RCH

Dam

SGCH BlissBerry R Rockin' Robin 2*M

LA:  03-06 EX90 VVEE

ELITE

DHIR

AGE  DIM  MILK   %  FAT   %  PRT DCR TTP
1-02    304  3030   4.0  120   3.5  105   73    20
2-00*  305  3890   5.0  194   3.8  149   94    20
3-00*  305  3990   5.3  210   3.9  156   97    20
5-01    275  3130   4.7  146   3.8  119  100   20
5-11*  305  3900   4.7  182   3.8  147  100   20
330  4040   4.7  189   3.8  153  100   20
7-01    280  2870   4.7  134   3.9  111  100   22

LIFE 1799 20950   4.7  993   3.8  793

*Top Ten Breed Leader

2010:  #4 (milk)

           #5 (butterfat)

           #3 (protein)

2007:  #3 (milk)

           #1 (butterfat)

           #2 (protein)

2006:  #3 (milk)

           #4 (butterfat)

           #1 (protein)

DS

GCH +*B Lakeshore-Farms Final Request

LA: 03-05 EX90 VVE

DSS

SG ++*B Kastdemur's Final Justice

LA: 03-05 EX90 EEE

DSSS

++*B Brown Sugar's Crown Ambassador

LA: 03-01 EX90 VEE

ELITE

1992, 1994, and 1997 National Show Premier Sire

DSSD

GCH Kastdemur's EP Ashley 1*M

LA: 03-03 EX90 EEVE

DHIR

AGE  DIM  MILK   %  FAT   %  PRT DCR TTP
2-03   295   2350    4.2   99   0.0    0    –         –
3-02   230   2140    4.0   86   0.0    0    –         –
4-01     96     890    4.3   38   0.0    0    –         –
4-11   117     950    4.7   45   0.0    0    –         –
5-11   100     850    4.8   41   0.0    0    –         –
6-11     71     470    6.2   29   0.0    0     –        –
8-00     52       10    4.2   42   0.0    0     –        –
LIFE   961   7660    4.4 338.  0.0    0

DSD

SGCH Wingwood-Farm EC Tamina 3*M

LA: 07-02 VG89 VAEV

DHIR

AGE  DIM  MILK   %  FAT   %  PRT DCR TTP
1-01   305    1550  5.4    83  4.6    72     –      –
599    2790  5.8  161  4.8  133     –      –
2-11   305    2170  5.6  121  4.3    94     –      –
340    2340  5.6  132  4.4  102     –      –
3-11   283    1660  5.8    96  4.7    78     –      –
4-11   239    1680  6.5  109  4.3    72     –      –

LIFE  1461   8470  5.9  498  4.5  385

DSDS

SGCH +*B Misty Knoll's Dandy Escort

LA: 06-02 VG88 VEV

DSDD

GCH Wingwood Farm QS Tammy 2*M

06-02 VG88 E+EV

DHIR 

AGE  DIM  MILK   %  FAT   %  PRT DCR TTP
5-00   305   2210   5.4  119  4.0    88     –       –
306   2210   5.4  120  4.0    88     –       –
6-00   284   1530   5.7    87  4.1    62     –       –
LIFE   590   3740   5.5  207  4.0  150

DD

Silver Willow Doll's Raven Rom 1*M

LA: 05-02 VG88 VVEV

DHIR 

AGE  DIM  MILK   %  FAT   %  PRT DCR TTP
3-11   254   1390   5.5    76   3.8   53     –       –
4-10   295   1780   6.2  110   4.0   72     –       –
5-10   180   1680   5.3    89   3.6   61     –       –
6-09   125   1390   5.2    72   3.7   52    48    20
LIFE   854   6240   5.6  347   3.8  238

DDS

*B Terrapin-Acres Magical Romany

DDSS

+*B Winterberry Flashy Magician

LA: 04-05 VG88 V+E

DDSD

Terrapin-Acres Touch of Roses 4*M

LA: 05-03 VG88 EVVV

DHIR

AGE  DIM  MILK   %  FAT   %  PRT DCR TTP
1-01   275    1290  4.7   61    3.5  45      –       –
2-01   166      890  4.6   41    3.4  30      –       –

LIFE   441    2180  4.7  102   3.4  75

DDD

The Scratchwork Dolly Madison

DDDS

*B Terrapin-Acres Royal Advisor

DDDD

The Scratchwork's Cleopatra