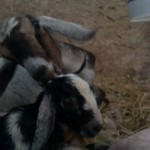 The Birthing kit.  Is kidding time rapidly approaching, and you want to make sure you have everything on hand that you may need??  Then our "You've Got to be Kidding?!" Kit may be exactly what you are looking for!!  For your convenience, I have this Kit set up in our store.  Click here to got to that section of the store.  The page that you are reading now describes how I use each of the items in the "You've GOT to be Kidding?!" Kit.
Also consider the Foundational Kit.
Information on each item:
Land of Havilah Parasite Formula.  It is exceptionally important to address parasite load after birth, since birth is stressful and may cause parasite "bloom".
EZ Birth Extract.  I use this for my Does the LAST 14 days before their due date.  I have instructions in the EZ Birth Extract product description, so see our Kit for details.
Guardian Extract and Cayenne pepper powder:   I use this as the naval "dip" on newborns.  I generally only use Guardian Extract.  Occasionally I have a momma that will NOT stop licking/biting the umbilical cord.  When that happens I sprinkle the umbilical area with Cayenne pepper powder.  This stops most does (some like it) and it does NOT damage the tissue, in fact, it is healing.
Lobelia extracts.  Lobelia inflata requires BOTH vinegar AND alcohol as a solvent when making a tincture/extract, so I would get both of these extracts and combine them, then pour them back into the dropper bottles.  Mark the labels to remind yourself that you did this.  The Lobelia is traditionally used as a uteri, perineum and vaginal wall softener.
Cayenne pepper extract.  I use both Cayenne extract and Lobelia extract for my does during labor.  Cayenne & Lobelia extract provides energy, supports the circulatory and respiratory systems and relaxes the doe.  I always use the combination extract (cayenne & lobelia), and it is easy to prepare.  I measure out equal parts of each tincture, mix them together and put them in a dropper bottle that I labelled with the contents (cayenne and lobelia) and the base (liquid) the extract is made from, and the date that I mixed them.  Give one dropperful of Cayenne & Lobelia extract, as needed during labor.
Shepherd's Purse extract.  Shepherd's purse is traditionally used for hemorrhage, it is specific for the uterus.  I keep this in my kidding kit for emergency use.  I have stopped bleeding in a newborn kid within seconds using a dropperful of this – her momma is one of those does that tends to keep bothering the naval area, thankfully cayenne powder on the kid's naval deters her.  😉 
False Unicorn Root & Lobelia inflata capsules.  This is in my kit for emergency use.  This herb mix is traditionally used when miscarriage is threatened.  Click here for more information.
Herbamins extract.  I keep this in my kit for rapid help if the doe or kids need extra nutrients fast.  I fact, I have made it my habit to give my doe a dropperful and each kid one drop of extract immediately after birth.
Complete Tissue & Bone (aka BF&C) Massage Oil.  I keep this in my kit for my does after birth.  I put it right on their vulva to soothe/heal it.
Lavender essential oil.  I keep this in my kit to add to olive oil for use as a lubricant for my doe, just in case assistance is necessary and I have to glove up.