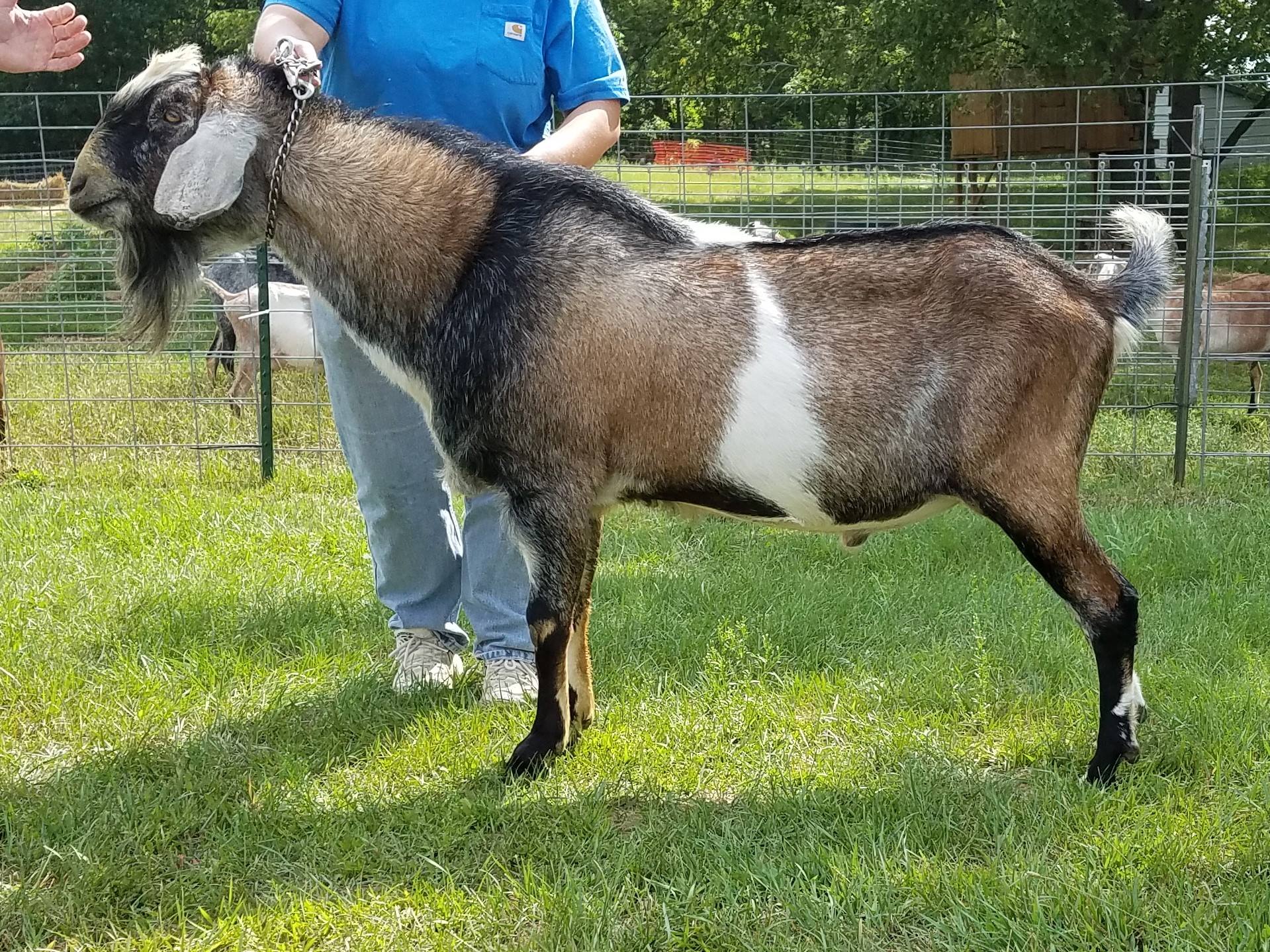 Deceased: October 23, 2022
Purebred Nubian Buck
ADGA Genetics link: N001625922
ADGA Registration #PN1625922
AGS Registration #N-60845
VGL Case #ADG3329
DOB: 03/03/2013
Sire (AI): ++*B SGCH Wingwood Farm Finding Atlantis
LA: 03-05 EX91 VEE

Dam: SG Land of Havilah ShekinahGlory 2*M 2*D
LA: 06-03 VG88 VEEV
---
Genetic Information
DNA Typed, Parent Verified
G6S: Normal (N/N)
Alpha S1 Casein: A/B
Scrapie Variant: SS/QQ
---
Linear Appraisal Scores
2017: 04-06 EX90 VEE
2016: 03-02 VG88 VEE
2014: 01-03 81 +++
---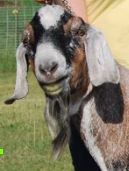 Triumph has made a huge impact on our herd! He is the result of our 2013 AI adventure, and he is everything I hoped for and more! Atlantis greatly improved breed character ears, and I think he also moved the thurls higher and forward.
Triumph excels in Shoulder Assembly, Front Legs, Rear Legs, Dairy Strength, and Body Capacity. He is very good in Back, Rump, and General Appearance.

A big thank you to my friend, Sarah, for AI service! Thank you to Atlantis' owner: Holly of Hoanbu Dairy Goats, for making semen available! Another thank you to Atlantis' breeder, Wingwood Farm, for breeding this wonderful buck!
Thank you God for causing the genetics we needed to mesh so well, and for the inspiration for this boy's name: "Thanks be to God who always causes us to triumph through Our Lord, Jesus Christ!"
---
Triumph's Progeny in our Herd
LAND OF HAVILAH TD JUBILEE 3*M
LAND OF HAVILAH TL JASMINE 5*M
*B LAND OF HAVILAH ZOE'S LEGACY
LAND OF HAVILAH BLACK VELVET 5*M
Awards
ADGA: Triumph has his +*B designation.
ADGA: Triumph has his *B designation from his parentage.
ADGA: Triumph has was awarded his +B in 2021 by having 3 daughters (Jubilee, Jasmine, and Velvet) that have earned their milk star.
AGS: Triumph has his +*S designation.
AGS: Triumph has his *S designation from his parentage.
AGS: Triumph was awarded his +S in August of 2022 when Midas earned his +S by having 3 daughters (Starburst, Only Imagine, and Honey) that have earned their *D.
---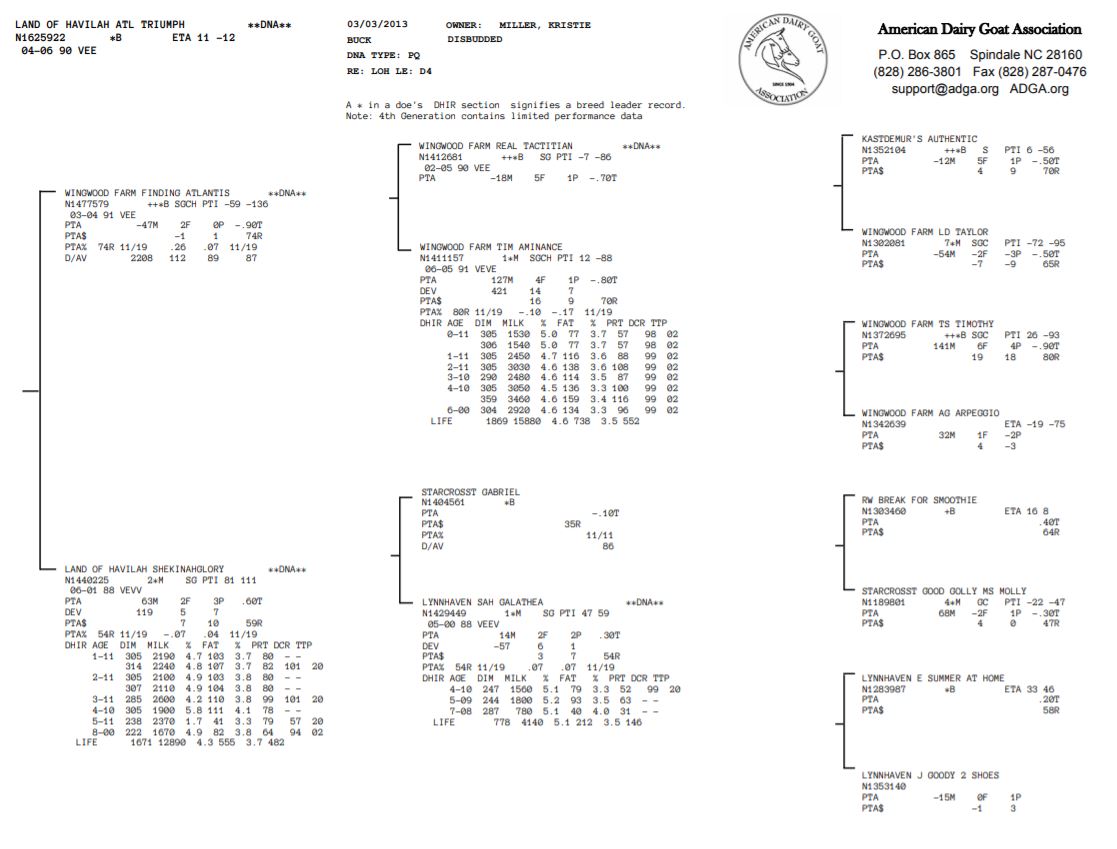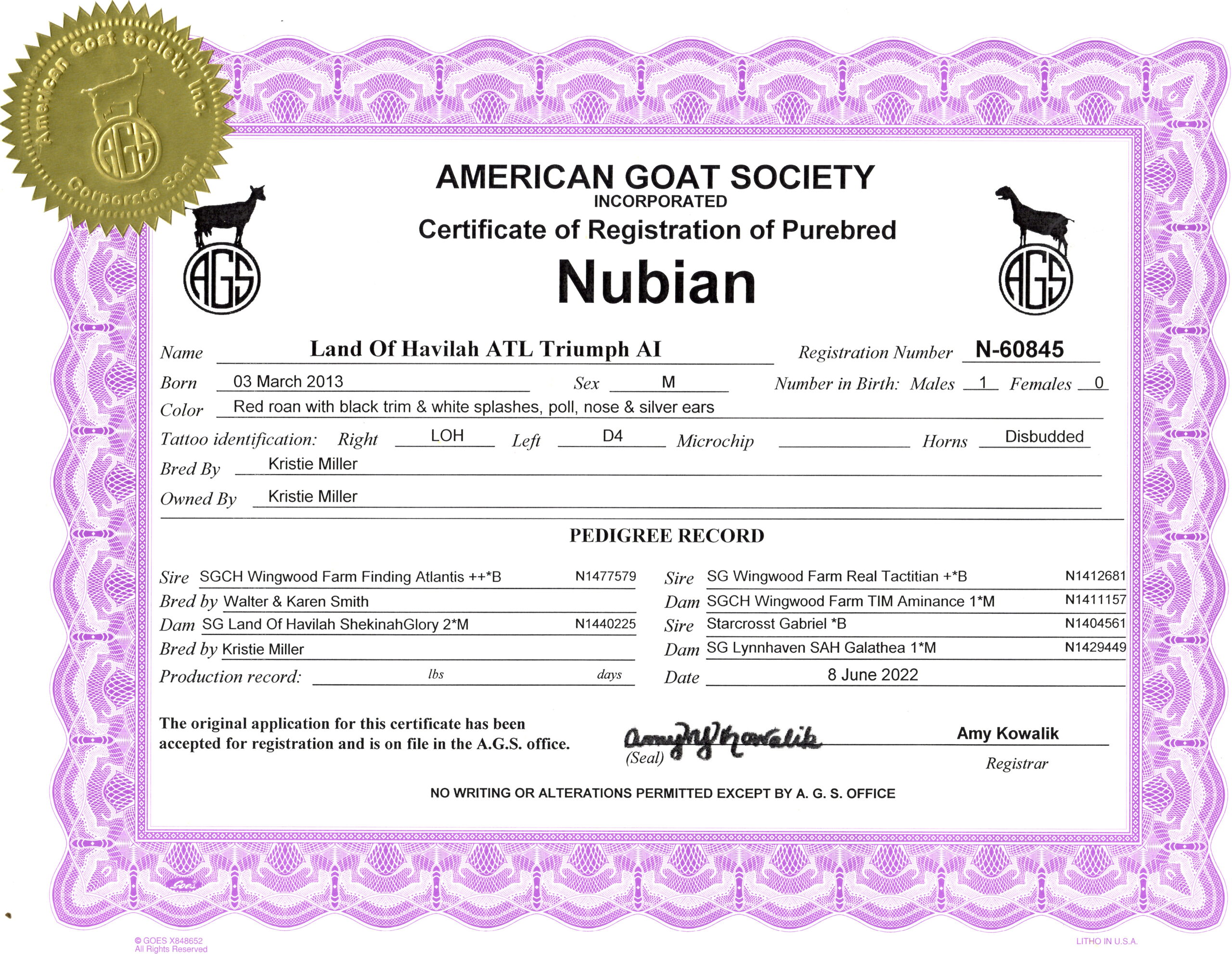 ---
Triumph's sire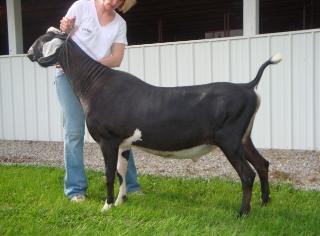 Triumph's sire is ++*B SGCH Wingwood Farm Finding Atlantis.
"He [Atlantis] has a look that brings to mind the word "extreme"… as he is extremely tall,
long, smooth, and stylish. His biggest asset is his striking angularity and openness, smoothness of blending,
sharpness and upstandingness, as well as plenty of length and stretch. He is extremely wide and high into
the escutcheon and has a long, wide, flat rump."
"Atlantis has an outstanding Nubian pedigree that combines both excellent type and production into one
package. Atlantis' dam SGCH Wingwood Farm Tim Aminance 1*M EX92 EEEE has been a favorite doe in
Karen's herd since she was a first freshener and continues to do well. "Amina" is a tall, long, dairy,
hard-working doe who seems to be the epitome of what a modern Nubian is all about. Amina was the 4th pl 2
Yr Old at the 2009 ADGA Nationals and Reserve Grand Champion milker at the 2009 California State Fair
(under the 2-time National Champion Temerity) and Timothy was named Premier Sire. After coming back
from being uneven early in the year, Amina was 1st place at 2011 CA St Fair where Tactician was named
Premier Sire. Amina made her milk star on test as a yearling and scored a 91 as a 2yr old and 92 as a 4 yr
old. She was 4th pl 5-6 Yr Old at the 2012 ADGA National Show. As a tie to my own bloodlines, Amina is
bringing Dr Luke and Tamerlane into her extended pedigree as well."
"In 2012, Atlantis' paternal sister SGCH Wingwood Farm TAC Sasha was named ADGA National Champion
and helped Tactitian win 2012 ADGA National Show Premier Sire!"
"On his sire's side, Atlantis brings in the familiar blood of ++*B SG Kastdemur's LH Full Service EX91 who has
been one of the most influential Nubian bucks in the recent past decade who sired the 2nd pl Senior Get of
Sire at 2006 Nationals. Atlantis is gaining the power, strength of general appearance and outstanding
mammary attachment from his sire's side and the beauty, dairy character, and will to milk in his dam's side.
This is a exciting combination that I am thrilled to be working with!"
~ Holly at Hoanbu Dairy Goats
---
Triumph's dam
Shekinah has strong "milking" and "show ring" bloodlines behind her – including 3 ELITE BUCKS:
++B SGCH Kismet Marvins Smooth Operator, ++B SGCH Hallcienda Frosty Marvin, and
+*B SGCH H-Homestead Spotted Elk
She is long bodied, has nice leg placement and angulation. I really like how solid and long her body is, her ears are an improvement over her dam's, as they go over an inch past her nose. She has a nice roman nose, and she is really smart, plus she's very friendly and easy to work with. Shekinah is Galathea's 2008 daughter. We are so pleased with her dam that we retained Shekinah for our herd, and we are so glad we did!
2010: Shekinah was awarded her *M (milk star) in all three categories (Milk, butterfat and Protein) her first time on DHIR, she earned this honor on her 11/04/2010 milk test! This allows her bucklings to be *B, as long as their sire qualifies!! 😀
She was #6 on the 2010 Michigan DHIA Honor Roll. 🙂
2011: She was #6 on the 2011 Michigan DHIA Honor Roll. 🙂
2012: Shekinah is #2 in Milk, Butterfat and Protein on the 2013 Michigan DHIA Honor Roll.
Shekinah was awarded her Superior Genetics (SG) on September 26th, 2013!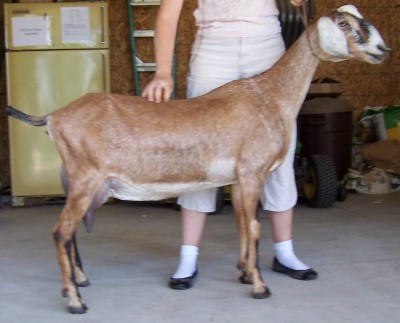 ---
Disease Test Results
Please visit our Biosecurity Test Results page to see our herdwide test results back to 2014. We have tested annually since late 2005 or early 2006, but only have results viewable online back to 2014.
---
Genetic Test Results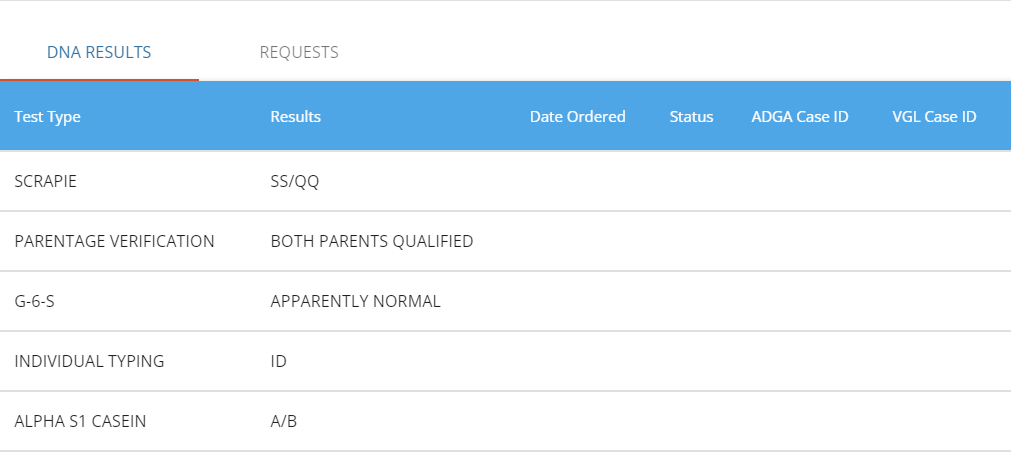 Here are the official test results straight from the lab. You can verify them yourself by clicking this link and inputting the case and report # (found in the pdf's) to see the reports on the UC Davis (VGL) site.
---
Other pictures of Triumph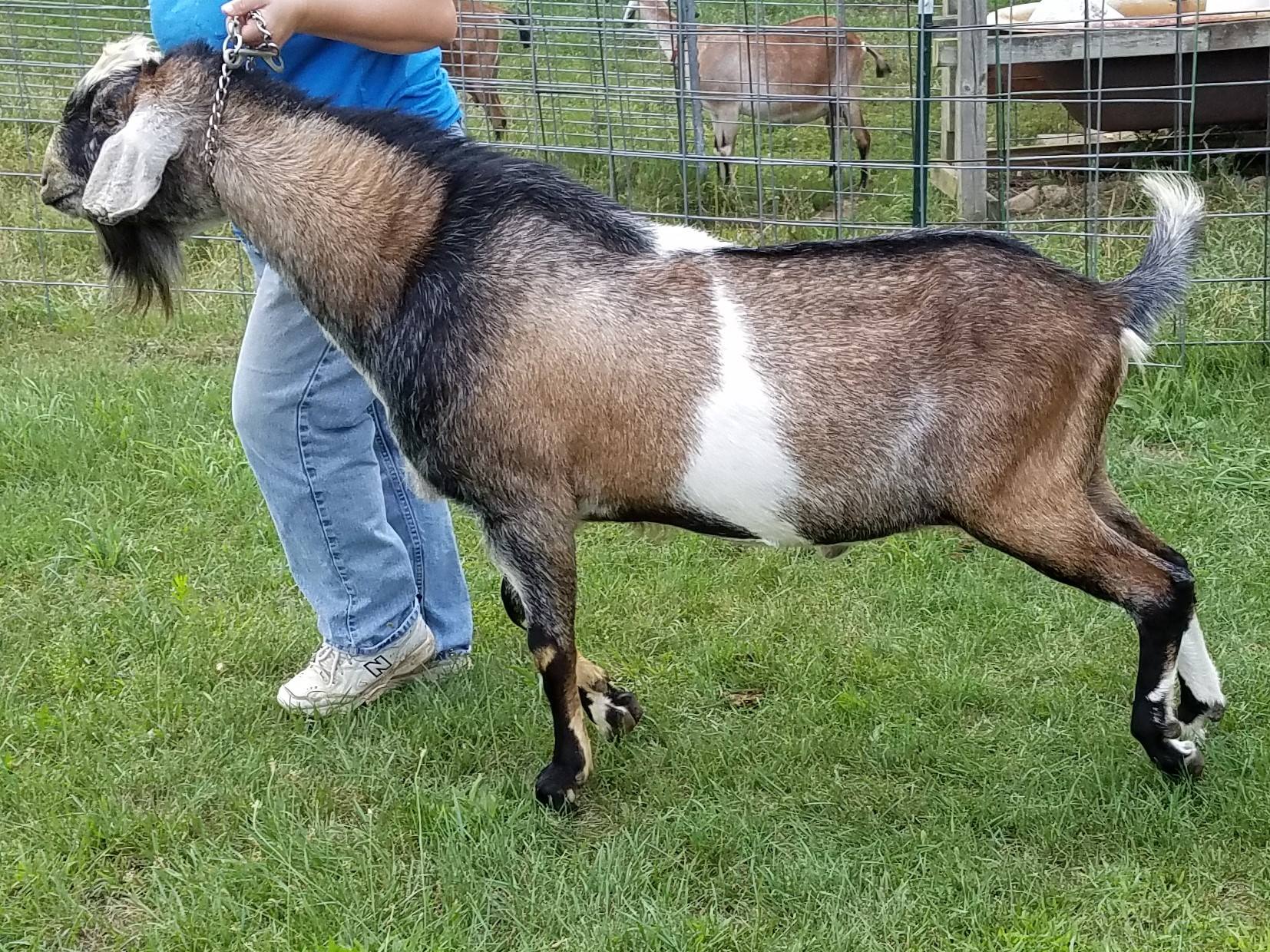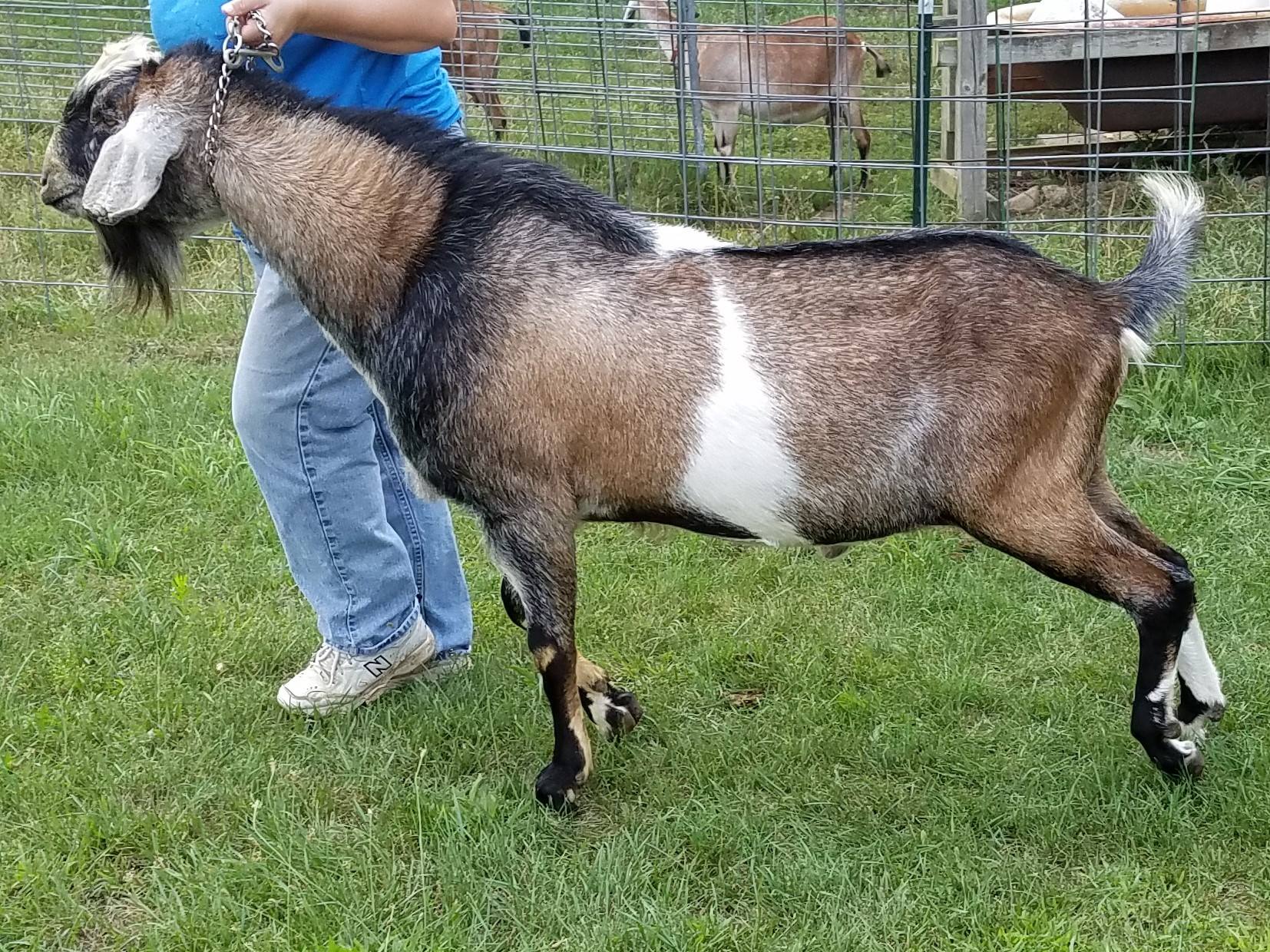 ---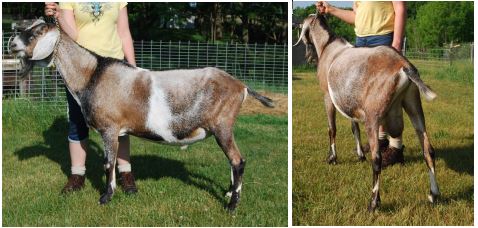 ---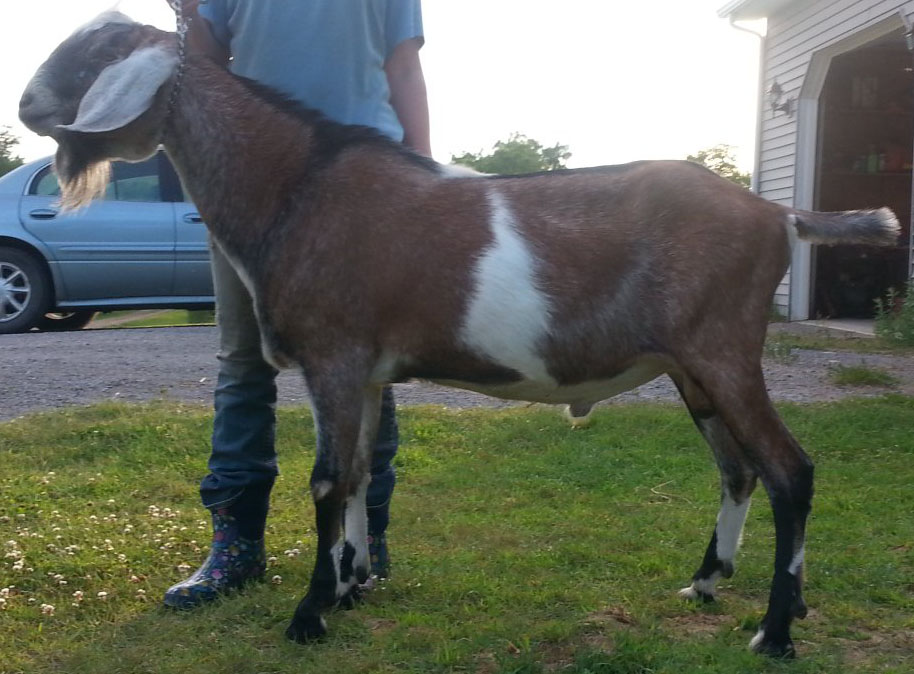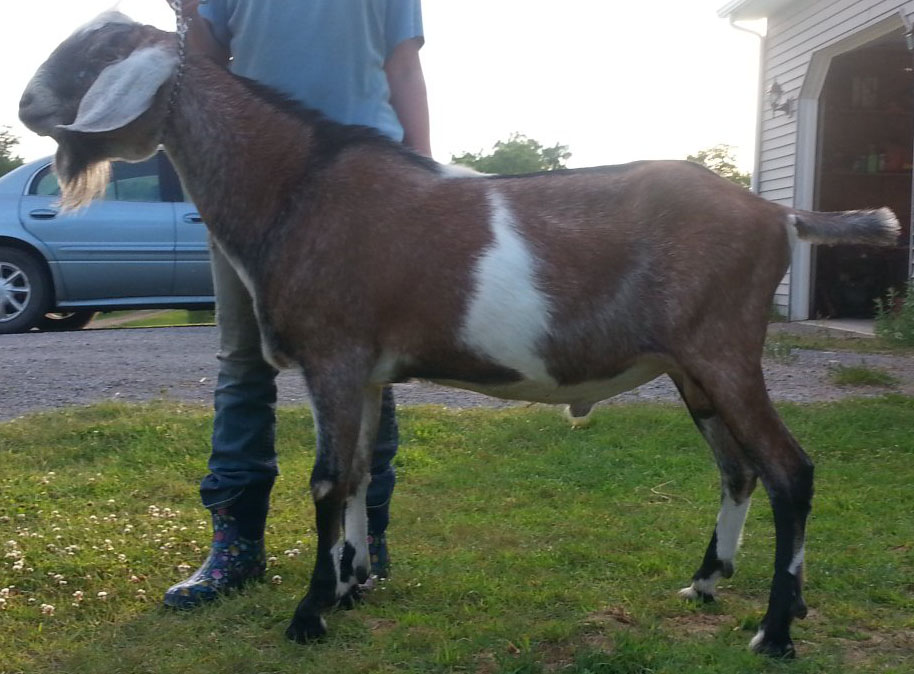 ---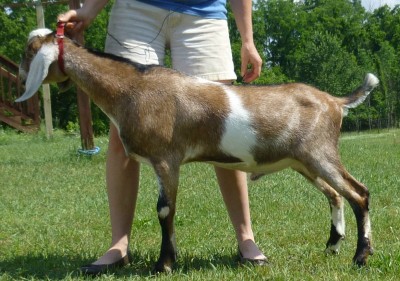 ---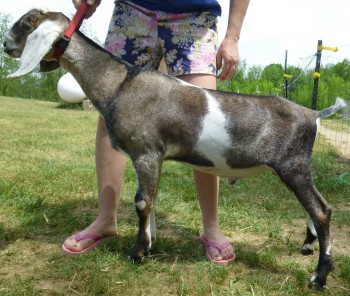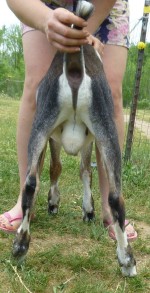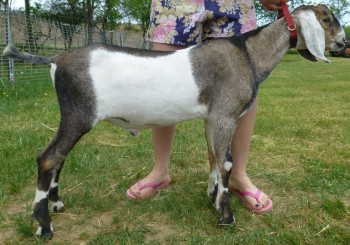 ---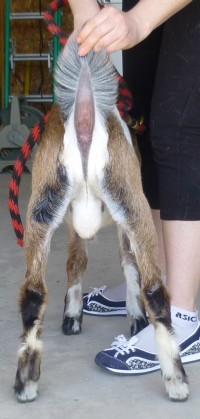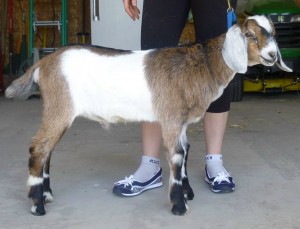 ---