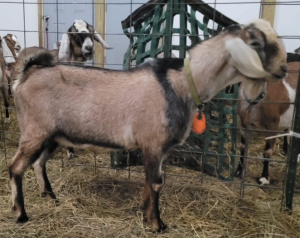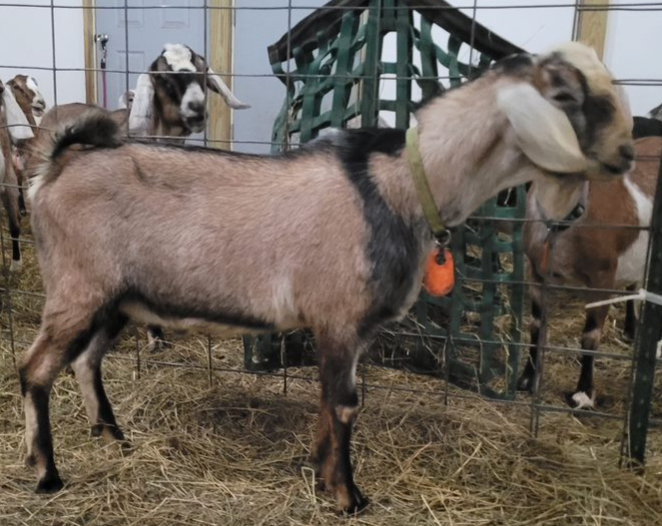 Deceased: January 20. 2023
(twisted gut?)
Purebred Nubian buck
ADGA Genetics link: N002063553
ADGA Registration # PN2063553
AGS Registration #N-60736
AGS awards: *S
VGL Case #ADG18030
DOB: 05/19/2019
Sire: +*B Land of Havilah ATL Triumph
Dam: Land of Havilah RCSG Zoe 3*M
---
Genetic Information
DNA Typed, Parent Verified
G6S: Normal (N/N)
Alpha S1 Casein: A/B
Scrapie Variant: NS/QQ
---
Linear Appraisal Scores
None offered in 2020 or 2021. Scheduled for August 2022.
---
We retained Legacy as a Herd Sire in 2019. He is out of our beloved Land of Havilah RCSG Zoe *M and our amazing buck +*B Land of Havilah ATL Triumph. Legacy has National Show Premier Sires on both sides of his pedigree, along with strong production! Zoe's sire is *B BlissBerry Rock The Casbah (+*B SGCH Kastdemur's Most Wanted (Ex90 VEE, Elite Sire) x SGCH Blissberry Rockin' Robin 2*M (Top Ten Breed Leader)).
He passes on nice substance of bone to his kids, with the sharpness and angularity that we see in our Triumph daughters. Our first Legacy daughters, Silhouette and Even If, are freshening in 2022. Silhouette kidded in March and just completed her first milk test – I'm very happy with her production! At 22 DIM (Days in Milk) she gave 8.6# of milk, 5.4% butterfat, and 3.5% protein. A very promising start for a yearling first freshener!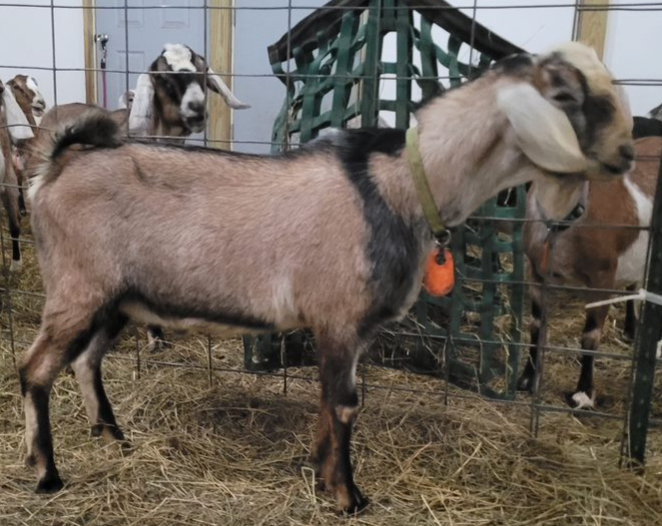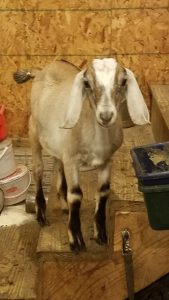 ---
Legacy's Progeny in our Herd
LAND OF HAVILAH LRC SILHOUETTE 5*M
---
Awards
ADGA: Legacy has his *B designation from his parentage.
AGS: Legacy has his *S designation from his parentage.
---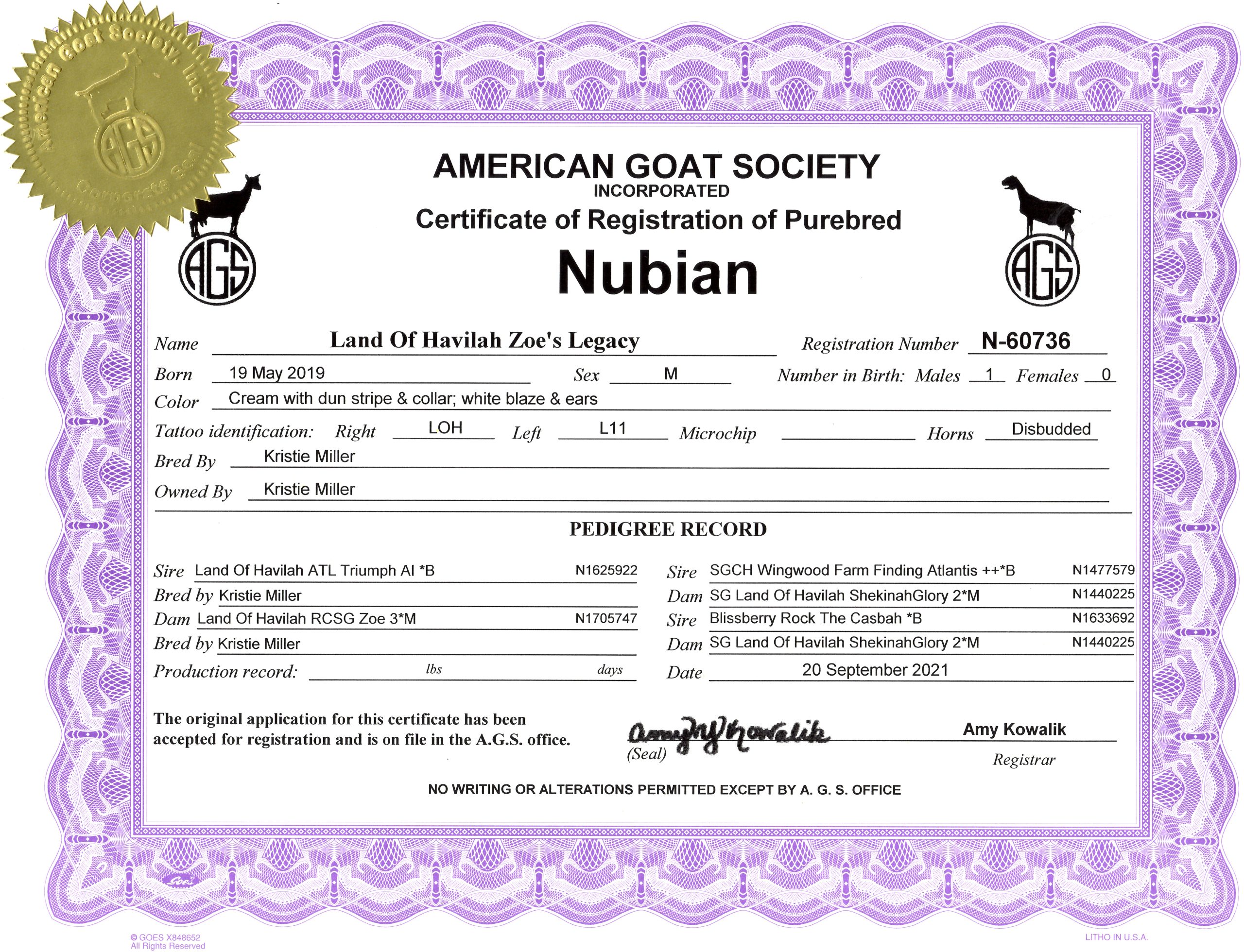 ---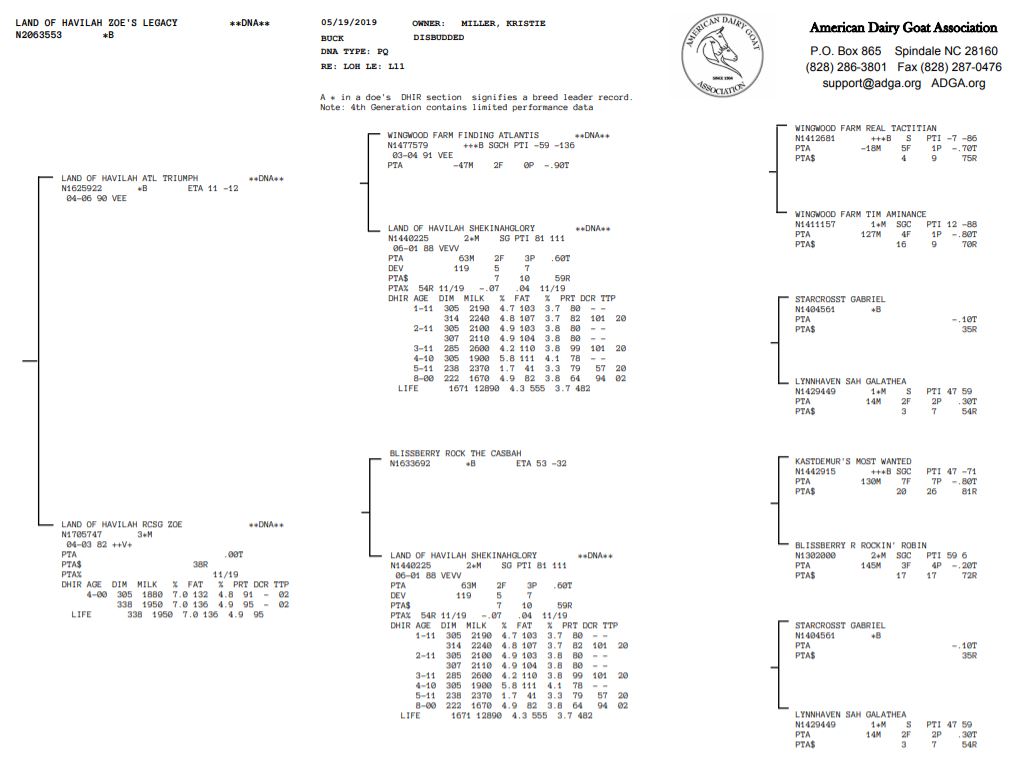 ---
Legacy's sire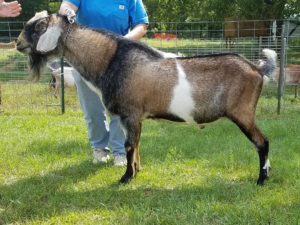 Legacy's is out of our amazing senior buck, +*B Land of Havilah Triumph, EX90 VEE. Triumph is an AI breeding out of ++*B SGCH Wingwood Farm Finding Atlantis LA: 03-05 EX91 VEE.
Triumph has made a huge impact on our herd! He is the result of our 2013 AI adventure, and he is everything I hoped for and more! Atlantis greatly improved breed character ears, and I think he also moved the thurls higher and forward.
Triumph excels in Shoulder Assembly, Front Legs, Rear Legs, Dairy Strength, and Body Capacity. He is very good in Back, Rump, and General Appearance.

Atlantis' sire is Real Tactition, EX90 VEE. 2012 ADGA National Show Premier Sire.

Atlantis is the paternal brother to GCH Wingwood Farm TAC Sasha 6*M, the 2012 ADGA National Champion (Nubian).
---
Legacy's dam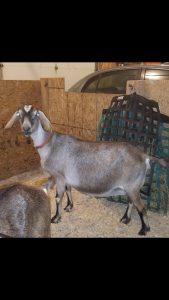 Legacy is out of our beloved Land of Havilah RCSG Zoe 3*M. Zoe incurred a spinal nerve injury as a dry doe which affected her gait and her front leg. This injury affected her LA score. In 2018 she lost her pregnancy one month early to a hard ram by a herd mate (goats can be jerks to each other when one is hurt), but she STILL came into milk and earned her Advanced Registry (AR) designation and her 3*M on that abnormal lactation!! She had an absolutely gorgeous mammary system with excellent udder texture, large teats and orifices that made her SO easy to milk!

Zoe is out of excellent milk and show lines, which include:

SGCH BlissBerry R Rockin' Robin 2*M, EX90 VVEE. Robin hit the ADGA Top Ten Breed Leader List multiple times.

SGCH ++*B Kastdemur's Most Wanted, Elite buck, 2016 ADGA National Show Premier Nubian Sire. 05-03 EX90 VEE. He had scored EX91 EEE on his previous two appraisals (2010 & 2012).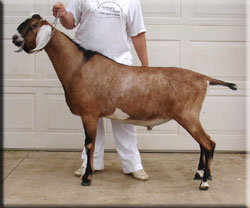 ---
Disease Test Results
Please visit our Biosecurity Test Results page to see our herdwide test results back to 2006.
---
Genetic Test Results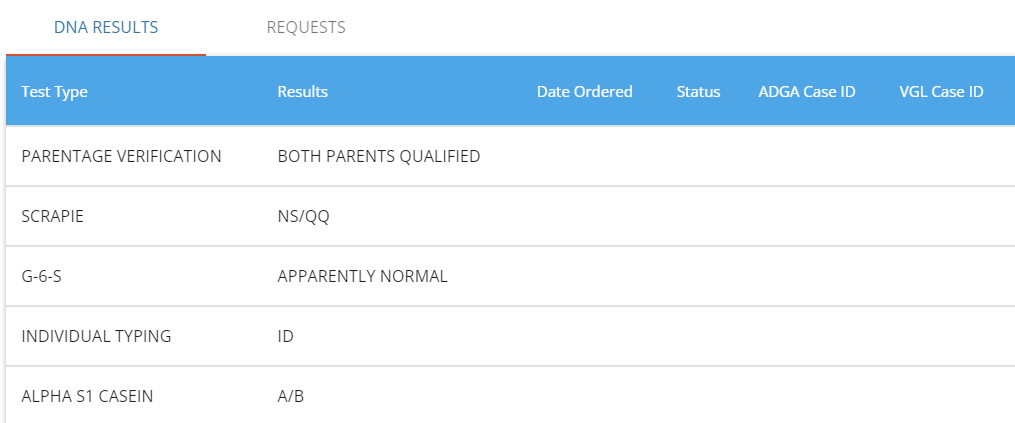 ---
Here are the official test results straight from the lab. You can verify them yourself by clicking this link and inputting the case and report # (found in the pdf's) to see the reports on the UC Davis (VGL) site.
---