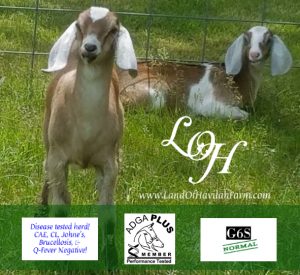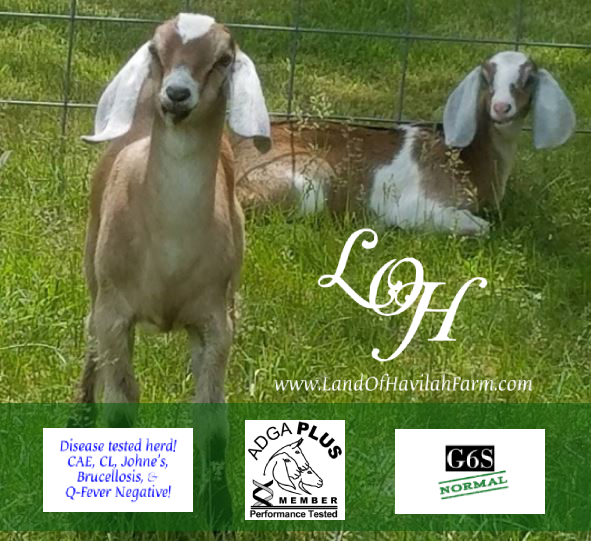 Updated on: November 21, 2020
Kidding Season on Facebook. We invite you to follow our kidding season on our Facebook newsfeed! I post Comments and pictures as each doe has her kids!
2020 Kidding Season:
NFS = Not For Sale (Retained)
RSV = Reserved
Pending = I've been told that a deposit is on the way
On Hold = The breeding is reserved, but the deposit has not been received
C/A = Conditionally Available
See Pricing below, as it depends on the breeding.
NOTE: Kid names listed are barn names only, not registered names. They are just to help us identify kids without saying "So-n-so's doeling" while they are here. 😉 YOU get to name your kid. Right now they all think their name is Babies or Kids as a collective whole unit. 😛
---
---
Dam:

Sire:

Kids For Sale:

Land of Havilah MA Lilly
DNA on File
LA (FF): 03-05 VG85 VEV+
4*M
Advanced Registry
Purebred Nubian
*B Land of Havilah TRC Midas
DNA on File
LA: 02-05 83 ++V
Purebred Nubian
Price: $600 registered

Parentage verified via DNA

Kidded: March 22
Twin bucks

Buck #1: (M9) Clark (aka Thandos).

SOLD



Buck #2: (M10) Galaxy.
*B Land of Havilah ML Galaxy

RETAINED

SG Land of Havilah KA Ebony
DNA on File
LA (FF): 02-05 84 +VAV
4*M
Superior Genetics
Advanced Registry
Purebred Nubian
*B Land of Havilah TRC Midas
DNA on File
LA: 02-05 83 ++V
Purebred Nubian

NOTE:
Parentage verified via DNA

KitKat is out of Midas

Mounds & Almond Joy are out of Triumph
Price: $600 registered

Parentage verified via DNA

Kidded: March 16
Triplets (2 doe, 1 buck)

Doe: (M4) KitKat.

SOLD



Doe: (M5) Mounds.
Land of Havilah Black Velvet


RETAINED



Buck: (M6) Almond Joy.


SOLD

SG Land of Havilah KSG Ecstatic
DNA on File
LA (FF): 02-05 84 +V+V
3*M
Superior Genetics
Advanced Registry
Purebred Nubian
*B Land of Havilah TRC Midas
DNA on File
LA: 02-05 83 ++V
Purebred Nubian


Price: $600 registered

Parentage verified via DNA

Kidded: March 16
Triplets (2 doe, 1 buck)

Doe: (M1) Hershey.


Land of Havilah Only Imagine


RETAINED



Doe: (M2) Twix.

SOLD



Buck: (M3) Snickers.

SOLD

Land of Havilah MV Gloriole
DNA on File
LA (FF): 02-05 VG85 VEV+
1*M
Advanced Registry
Purebred Nubian
*B Land of Havilah TRC Midas
DNA on File
LA: 02-05 83 ++V
Purebred Nubian
Price: $600 registered

Kidded: May 10
Twins (1 buck, 1 doe)

Buck: (M12) Oh Henry.


SOLD



Doe: (M13) Baby Ruth.
Land of Havilah MC Red Clover
DNA on File
LA: 04-05 VG86 VV+V
3*M
Advanced Registry
Purebred Nubian
*B Land of Havilah Zoe's Legacy
DNA on File
LA: Too young
Purebred Nubian
Price: $600 registered

Kidded: June 7
Twins (1 buck, 1 doe)

Buck: (M16) Reeses. FOR SALE

Doe: (M17) Milky Way
Land of Havilah Silhouette


RETAINED

Land of Havilah TE Elation
DNA on File
Purebred Nubian
*B Land of Havilah TRC Midas
DNA on File
LA: 02-05 83 ++V
Purebred Nubian
Kidded: May 24
Twins (1 buck, 1 doe)

Doe: (M15) S'More.
Land of Havilah Even If


RETAINED



Land of Havilah MG Starburst
DNA on File
Purebred Nubian
*B Land of Havilah TE Yuri
(Triumph x Ebony)
DNA on File
LA: Too young
Purebred Nubian
Price: $450 registered

Parentage verified via DNA

Kidded: April 12
Single buck

Buck: (M11) Crunch.

SOLD

SG Land of Havilah ShekinahGlory
DNA on File
LA: 06-02 VG88 VEVV
2*M
Superior Genetics
Advanced Registry
Purebred Nubian
*B Land of Havilah TRC Midas
DNA on File
LA: 02-05 83 ++V
Purebred Nubian

NOTE:
Parentage verified via DNA
Honey is out of Midas
Whatchamacallit is out of Triumph
Kidded: March 19
Twins (1 buck, 1 doe)

Parentage verified via DNA

Buck: (M7) Whatchamacallit. SOLD

Doe: (M8) Bit 'O Honey.
Land of Havilah Bit 'O Honey


RETAINED