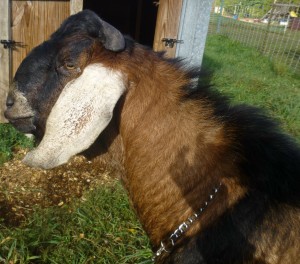 Purebred Nubian buck
***DNA on file***
DOB: 06/11/2011
Registration #N1576811
LA Scores:
(2013): 02-03 EX90 EVE
(2012): 01-01 VG87 VVE
(2011): 00-02 V++ Vg (Young Stock)
First of all we want to thank Schneider Family Farm for allowing us to purchase Misha, he is treasured here at our farm!
Misha is an excellent example of a correct Nubian buck. The Appraiser said that he has the perfect Nubian head, and it follows through the rest of his body. His long bell ears and roman nose are one of the first things that you notice about Misha. Next is his impressive size. As a 2-year old, he stands 37″ at the withers and we estimate his weight at 260#.
He has amazing width throughout. He is excellent in General Appearance and Breed Character.
He is excellent in head, front legs, and back. His shoulder assembly, rear legs and rump are very good.
My girls are swooning over this beefcake!
CAE, CL, Johne's, and Brucella negative.

Click here to view Misha's 5-Generation pedigree created using subscription reports.