Description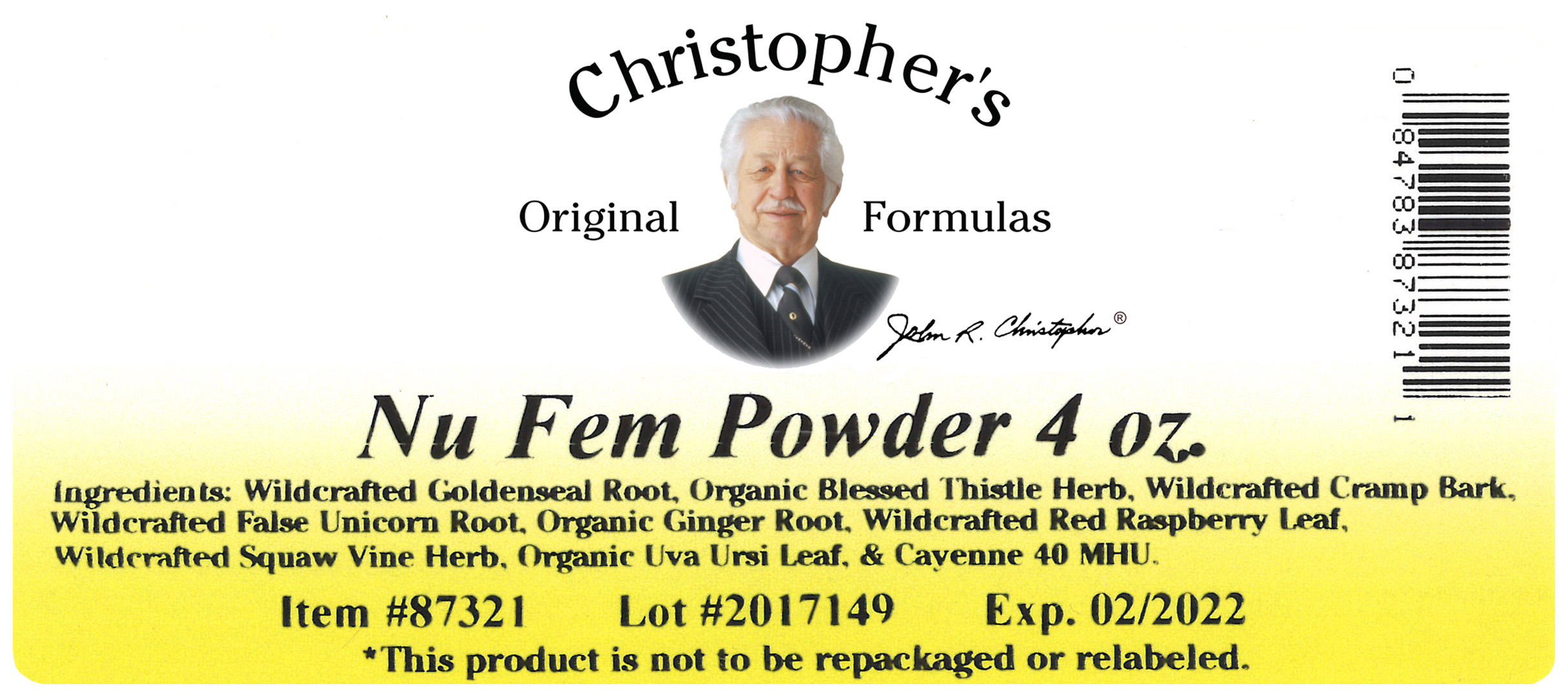 Other Name(s): Nu Fem; Fem-Mend; Female Corrective; Female Reproductive
A synergistic blend of herbs for a women's special needs. Caring for your reproductive system is important for a woman's overall health as well there are a number of health concerns associated with a woman's reproductive system. Dr. Christopher's Nu-Fem Powder supports the reproductive system & aids the body in hormonal balance.
Also available in Capsule & Extract (Female Reproductive) form.
Proprietary Blend: Goldenseal Root, Blessed Thistle, Cayenne Pepper, Cramp Bark, False Unicorn Root, Ginger Root, Red Raspberry Leaf, Squawvine Herb & Uva Ursi Leaf.
No added Fillers or Chemicals.
Directions: Varies according to individual need. Bulk Formulas can be prepared for Extracts, Capsules, Decoctions, Balsams, Plasters, Fomentations & many other uses. We encourage you to research information on the formula & preparation that works best for you. While we cannot cover every herbal preparation below are a few common methods.
Encapsulating – To fill capsule, simply take the two halves of a capsule apart (one in each hand), and push these halves into powder and toward each other, pressing the halves together again & at the same time compressing the powder. Small encapsulation products that help to capsule 50 herbs at one time are available.
Infusion or Tea – Use 1 teaspoon of cut herb per cup of distilled water. Bring water to a boil, remove from the heat source, then add the applicable amount of herb to the water. Cover & allow to steep for at least 20 minutes (longer for stronger tea). Strain the herb & let stand until cool enough to drink.
***FOR BEST RESULTS, TAKE THIS FORMULA IN COMBINATION WITH HORMONAL CHANGEASE FORMULA AND WHEAT GERM OIL****
Store in a cool, dry place. Keep out of reach of children.