Description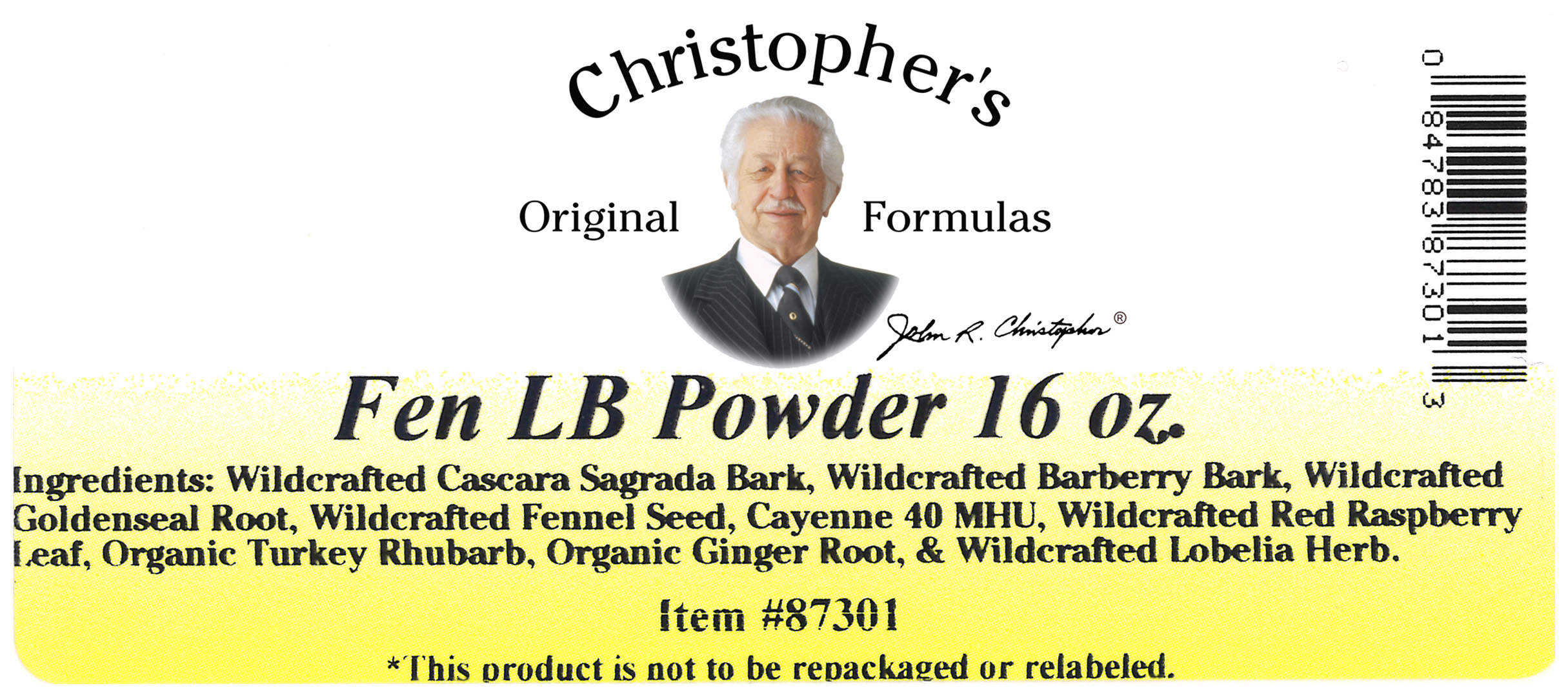 Other Name(s): Fen LB; Lower Bowel; Naturalax 2
A synergistic blend of herbs for the lower bowel. An unhealthy lifestyle & a diet that lacks in fiber & water are often causes of people suffering from less than regular bowel movements. If the intestine is packed with degradable waste products that accumulate bacteria & not fully eliminated, the barrier function of our intestinal wall weakens & toxins enter the bloodstream & are spread throughout the body. Dr. Christopher's Fen LB Powder was designed to encourage the elimination of waste & assist the motor activity of the intestines in a natural way.
Also available in Capsule, adult Extract Extract (Lower Bowel) & kid-e Extract (Kid-e-Reg) form.
Proprietary Blend: Cascara Sagrada Bark, Turkey Rhubarb Root, Fennel Seed, Goldenseal Root, Cayenne Pepper, Red Raspberry Leaf, Barberry Bark, Ginger Root & Lobelia Herb.
No added Fillers or Chemicals.
Directions: Varies according to individual need. Bulk Formulas can be prepared for Extracts, Capsules, Decoctions, Balsams, Plasters, Fomentations & many other uses. We encourage you to research information on the formula & preparation that works best for you. While we cannot cover every herbal preparation below is a few common methods.
Infusion or Tea – Use 1 teaspoon of cut herb per cup of distilled water. Bring water to a boil, remove from the heat source, then add the applicable amount of herb to the water. Cover & allow to steep for at least 20 minutes (longer for stronger tea). Strain the herb & let stand until cool enough to drink.
Decoction – Cover roots, barks & other hard herbal material with water, an ounce of the herb to a pint and a half of water. Bring to a boil & gently simmer for about 20-30 minutes. Drain off the liquid while hot & press the herbs to make sure that the decoction is fully extracted. Decoctions are strong. Take as directed.
Fomentation – Soak a piece of gauze, Turkish towel or similar porous material in the infusion or decoction needed. Sometimes hot Apple Cider Vinegar is used. Cool until the material is just bearable. Cover with plastic or oil cloth to prevent the liquid from soaking bed clothes, etc. Keep damp & change periodically.
Store in a cool, dry place. Keep out of reach of children.