Description
How would you like ONE mix to use that provides general vitamin/mineral supplementation that INCLUDES herbs to help increase availability of copper/selenium AND supports and protects the liver? Our Certified Master Herbalist has carefully formulated Herbamins to do exactly that!
We love to use this mix for our Nubian dairy goat herd, and Kristie formulated our Herbamins mix to provide more access to copper and selenium (if needed) along with additional safety features to support and protect the liver! If copper and/or selenium aren't needed, the body is able to easily eliminate them – that is one of the fantastic safety features of the mix!
There are no synthetic vitamins in our Herbamins mix. We created it using natural whole foods.
Proprietary Blend: Certified organic flash-dried juice powder from Alfalfa, Barley grass, and non-hybrid Wheat grass. Dandelion, Kelp, Dulse, Spirulina, Irish Moss, Rose hips, Beet Root, Nutritional Yeast, Cayenne Pepper, Blue Violet, Oatstraw, Carrot, Ginger, Milk Thistle, Chaparral, Pumpkin, and Brigham Tea.
This mix does NOT contain any fillers or excipients!
We test all our Land of Havilah Herbals mixes for identity, microbials, and heavy metals.
Herbamins is excellent for creatures that require some extra TLC (failure to thrive, recovering from illness, etc). This mix has helped us to avoid any extra selenium supplementation, even before birth/delivery!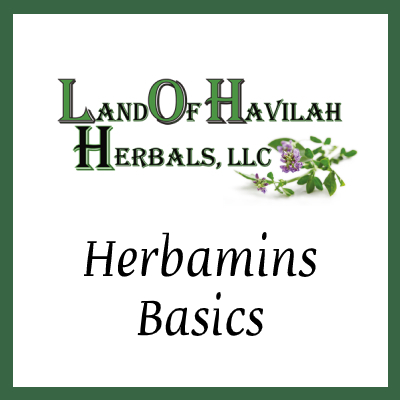 FREE ONLINE CLASS INCLUDED WITH PURCHASE! After purchase, you will be given free access to the Herbamins Basics online class where our Certified Master Herbalist will teach you about dosage, frequency, and administration suggestions for your animals.
---