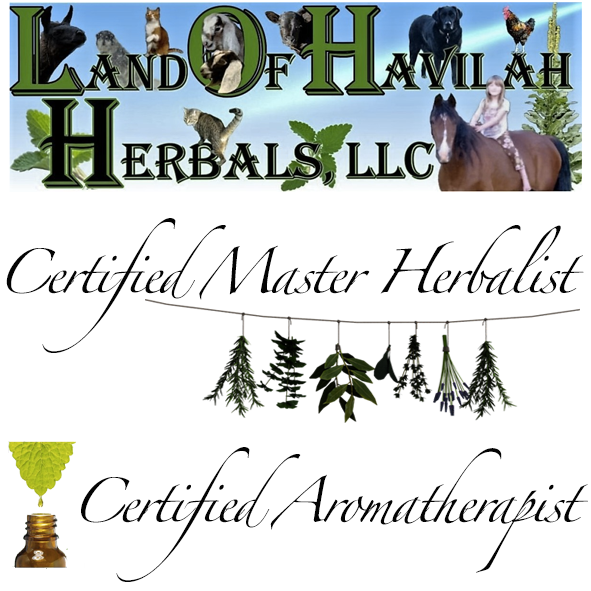 HERBAL INFORMATION:  We strongly believe in providing excellent customer service and support.  All items purchased through our store include the guidance of our Certified Master Herbalist/Aromatherapist.  This free guidance is only available for our customers and the items that they have purchased through us and it is given in appreciation for their support of Land of Havilah Herbals, LLC.  Please feel free to use the form below to contact our Certified Master Herbalist/Aromatherapist to ask how to use the items that you ordered here or items that you are in the process ordering/adding to your cart.  If you have a situation that you are working with and you desire Kristie's input about what to order, that is covered as "being in the process of ordering".  Specific guidance on how to administer the products in your situation will be provided once your order is placed.  For items purchased elsewhere, please visit this link to purchase and schedule a consultation with our Certified Master Herbalist/Aromatherapist (Kristie).
See this link for our office hours.
If you do NOT receive a reply to your email, the reply is probably bouncing.  Please check for typos in the email address you gave me.


Follow us on Facebook: 
Click here for our Land of Havilah Herbals Facebook page.  Herbal information.
Click here for our Land of Havilah Farm Nubians Facebook page.  Current events on our farm.
Click here for our Land of Havilah Aromas Facebook page.  doTERRA & essential oils.
LOCATION:  Our farm is located in south central Michigan.  We are approximately one hour south of Lansing, and approximately one hour north of Toledo, Ohio.
Farm Visits:  We do not offer farm visits.
We no longer offer disbudding to other herds.
ADGA Linear Appraisal.  We are an ADGA Host Herd, however we DO insist on disease testing of your entire herd before our animals arrive.  Please provide recent test results of your entire herd ONE WEEK PRIOR to the scheduled Linear Appraisal.  All Transport Herds MUST keep their animals in the trailer they arrived in and in the front area of our property, well away from our fenceline.
We do not offer Stud Service to our bucks.
To Reserve a goat kid from our farm, please use the contact form.