Essential Oils
 
As a Certified Aromatherapist, I want to be able to use the essential oils I keep on hand in three ways: topically (on the body), aromatically (diffused into the air), and internally (consumed, if appropriate for that specific oil). My training included Aromatic Medicine, which is the internal use of essential oils, so I am able to guide you in their safe and effective use internally as well as aromatically and topically. The essential oils that I use for our family and on our farm are available on a separate website from this one.  This also allows me to offer you Wholesale prices, if you desire!  Click here (<<< this is a link) to see the selection I have there.  (This link goes to my dōTERRA website that is stand alone and is completely separate from any sales we list on our Land of Havilah Herbals store.)  
NOTE:  If one of my Team members sent you to this page of my website, please make sure to sign up under their doTERRA link.  You will still have access to everything I mention on this page (no consultation necessary), as you will be in my Downline.  I love to bless and support my Team members!  
WHOLESALE PROGRAM ENROLLMENT OPTIONS and PROMOTIONS.  If you are not already a Wholesale Customer or Wellness Advocate with dōTERRA, you have the opportunity to buy one of these wholesale enrollment kits (<<< this is a link) – which will save you the $35 membership fee AND the kits are all listed at below wholesale prices.  It also gives you lots of exceptionally high quality oils to work with so I can help you with issues that come up.  Best of all – when you sign up with me, you get my FREE guidance as a Certified Aromatherapist!  I will gladly help you to SAFELY and EFFECTIVELY use the dōTERRA products you purchase after you sign up through my link (<<< this is a link), no matter how you choose to purchase: as a Retail customer, or enrolled as a Wholesale Customer using the oils/products for yourself and your family, or as  a Wellness Advocate interested in building your business on my Advocate Team!  I also work very closely with a veterinarian who uses the oils in her clinic, so when you are signed up with me, you also get her FREE guidance for using the oils/products for your animals!  Between the two of us, your investment will easily pay for itself and you will have excellent quality oils to boot!  😀  Would you like to learn more about the wholesale membership? I have a free online class available here.
Wholesale Enrollment Team Perk!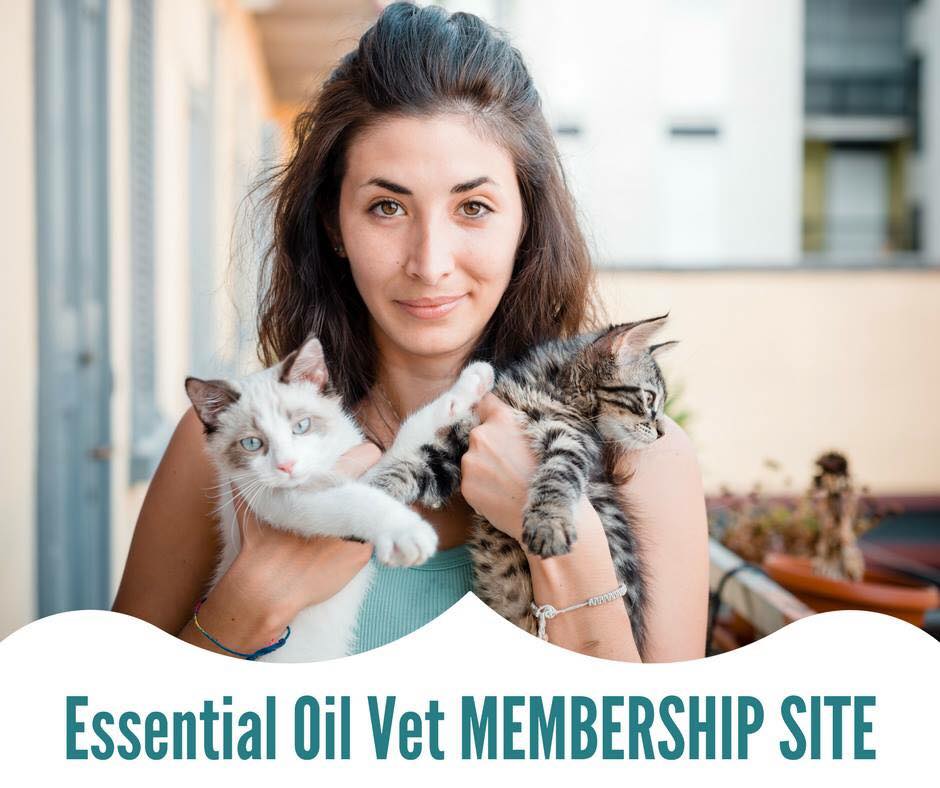 Free membership to Dr. Janet Roark's private Facebook group: EO Vet – Membership Group!  Normally, membership to this exclusive group is $9.99/month or $99.99/year, but by enrolling in the Doterra Wholesale Program through me or members of my team, you will also be on Dr. Roark's Doterra team, which gives you FREE membership to this Facebook group! It is a great resource, with daily posts and weekly Facebook Live videos by Dr. Roark! This is a brand new group, and more content is being added daily!! This is what is available on the site:
Daily Posts
Info on Animal/EO usage
Recipes
Dilution Recommendations
FREE Class Resources
Posts for downloading to share
WEEKLY live videos with Dr. Janet Roark to answer your questions
FREE EOs and Pets Class to use for your business
FREE EOs and Pets eBook
FREE EOs and Horses Class to use for your business
FREE EOs and Horses eBook
FREE EOs and Livestock Class to use for your business (COMING SOON)
FREE EOs and Livestock eBook (COMING SOON)
FREE shareable Facebook Posts
---
FOCUS ON EDUCATION  
I focus on education, knowledge is power! I want to KNOW that you are properly trained in using the oils you buy through me.  Here is a list of what I offer for each tier:
1.  RETAIL CUSTOMER.  If you purchase Retail, feel free to email me with your questions about the specific products you purchased.
2.  WHOLESALE CUSTOMER.  If you enroll as a Wholesale Customer, I created a private Facebook Group that is ONLY for my Wholesale Customers – you get one on one help from me with the the oils you purchased through your dōTERRA account. You get free consultations with me (a value of $50-$100 each) and free consultations with Dr. Janet Roark (DVM), the Essential Oil Vet, (a value of $50-$100 each).  I have free Team Training online classes for my Team members (my downline).  They are On Demand classes that are available to you forever once you are enrolled and you can go through them on your own schedule.
3.  WELLNESS ADVOCATE.  If you want to build your own business with dōTERRA and enroll under me as a Wellness Advocate, you get added to my private Facebook TEAM group, where I train you in the USE of the oils/products AND I provide BUSINESS training as well.  This TEAM group is ONLY for people that want to build a business.  My Team members get 24/7 access to me (assuming I'm awake at the time).  People who are interested in personal use only would be better suited with the Wholesale Customer option, since we will be discussing a lot of business training on the Wellness Advocate TEAM group. You get free consultations with me (a value of $50-$100 each) and free consultations with Dr. Janet Roark (DVM), the Essential Oil Vet, (a value of $50-$100 each).  I have free Team Training online classes for my Team members (my downline). I have free Team Training online classes for my Team members (my downline).  They are On Demand classes that are available to you forever once you are enrolled and you can go through them on your own schedule.
CONSULTATIONS.  If you already have a wholesale account with another doTERRA Team, I do have Consultations (<<< this is a link) available if you would like help implementing your dōTERRA oils/products:  Please keep in mind that an Emergency Consultation is necessary if you need immediate assistance.  I can also help with other brands, if that is your choice.

LAND OF HAVILAH ONLINE CLASSES!  NEW!  I have several online classes available!  Page down to the bottom of this page to see the essential oil on demand online classes that I have available so far!  I also have free Team Training online classes for my Team members (my downline).  They are On Demand classes that are available to you forever once you are enrolled and you can work through them at your own pace.  

THE dōTERRA DIFFERENCE.  You may be wondering, "Why did Kristie choose dōTERRA?"  There are quite a few reasons, but 2-3 come immediately to mind.  The top for me was the testing they do on the products.  This is is a list of the testing that is conducted on the essential oils I use and suggest to my clients for their family and animals:
1)  Testing.  This testing is conducted on every batch after distillation, upon receipt at the lab, and after filling the bottles:
GC/ MS (batch results are available on SourceToYou.com)
Fourier Transform Infrared Spectroscopy
Chirality Testing
Microbial testing (Bacteria, virus, fungi, mold)
Heavy Metal testing
Contamination testing (Pesticides, Chemicals, etc.)
Optical Rotation, Refractive index, Specific Gravity, Organoleptic Assessments, and Stability Testing
Third-Party Laboratory testing
2) Research.  The oils are being used for research in universities, who have found that they can reproduce results from batch to batch.  Studies are expected to be published soon, so I plan to share them on my Land of Havilah Aroma's Facebook Page (<<< this is a link) as they are made available.
3) Cō-Impact Sourcing.  In addition to supplying high quality essential oils dōTERRA is committed to making a positive difference in the lives of farmers, harvesters, and distillers who contribute to dōTERRA's oil production.
With over 100 essential oils in its product line, doTERRA sources its oils from over 40 countries —more than half of which could be considered developing countries. To ensure that small scale farmers and harvesters in disadvantaged areas are treated ethically, dōTERRA has introduced an initiative called Cō-Impact Sourcing.
Cō-Impact Sourcing is an initiative that seeks to develop long-term, mutually beneficial supplier partnerships while creating sustainable jobs and providing reliable income in underdeveloped areas. dōTERRA is committed to the ethical treatment of its suppliers by providing on-time payments at fair prices.  Growers and harvesters are encouraged to form cooperative groups to share collective benefits and bargaining power while improving skills and capacity. If a natural disaster hits the area (which has happened) dōTERRA DOUBLES DOWN and provides support in their time of need!!  THAT is the kind of company that I can feel good supporting!!!
The Healing Hands Foundation, dōTERRA's charitable organization, provides funding and resources to create community-based, social-impact projects to improve lives in the larger communities where oils are sourced. Past projects include building or sponsoring existing medical clinics, installing drinking water and irrigation systems, building schools, and providing other educational resources such as vocational training programs.
I feel SO GOOD recommending this company for SO many reasons that I truly don't have room to tell you about all of it here, so I just named some of my very favorites.  🙂 I researched a lot of companies and tried their products before I decided on dōTERRA and the longer I am with them and experience the difference of using their products compared to the oils I was using before, the happier I am that I made the switch!  
 ~ Kristie, MH, CA, CEIT, NES
Proud to be a Wellness Advocate with dōTERRA 
Doterra has monthly specials that sometimes include wholesale membership promotions, I have the current monthly specials listed below:
February Wholesale Membership Enrollment Promo!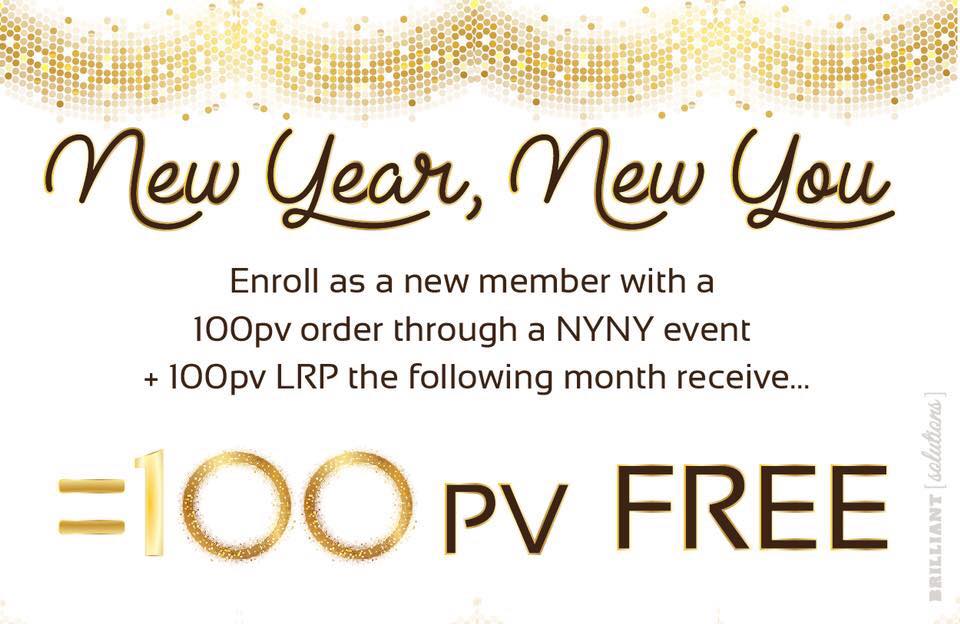 The New Year New You promotion is back, and it is one of my favorites!  You will need a special code to get this offer, please contact me for assistance. 🙂
---
February Sale: 10% off!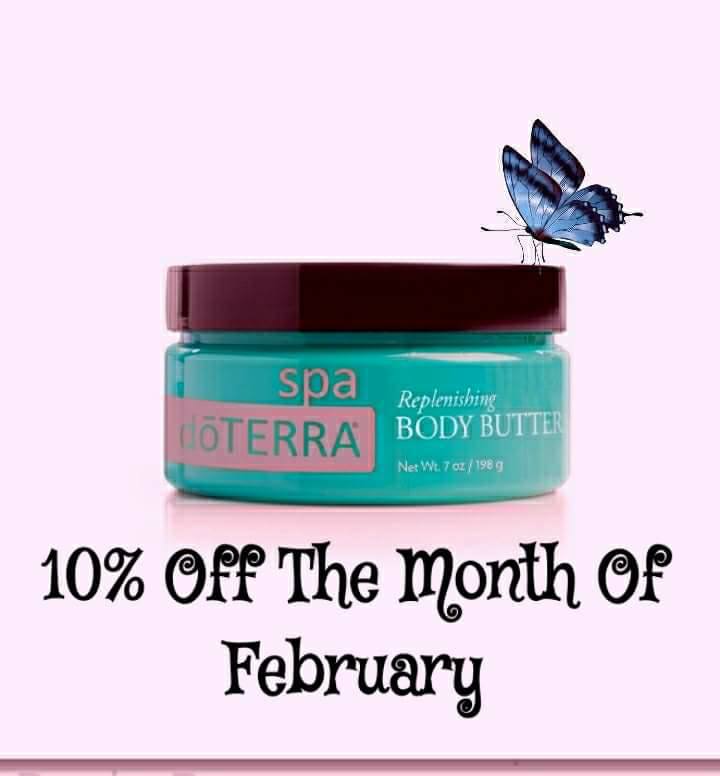 Pamper your skin with the rich hydration and luxurious feel of the doTERRA SPA Replenishing Body Butter. The base of this natural formula combines shea and cocoa seed butters, known for their deep moisturization and ability to promote skin suppleness. Jojoba seed oil absorbs quickly into the skin and helps keep skin looking hydrated while avocado oil provides essential fatty acids to nourish and soften skin. CPTG® essential oils of Wild Orange, Douglas Fir, and Frankincense turn this indulgent formula into an intensely aromatic spa experience while providing purifying and rejuvenating benefits. The Wholesale price is $17.50, so you will save $1.75 with this sale = $15.75! The Retail price is $23.33, so you will save $2.33 with this sale = $21.00! See the savings between wholesale and retail? Would you like to hear more about our wholesale program? I invite you to contact me for more information and get a free Wellness Consultation to see what products would best fit your needs.
Our wholesale program makes you a part of my doTERRA team, which means that I get the chance to support you and educate you on how to use essential oils safely and effectively – I LOVE that!! I have some amazing online resources that I've created for you, including a private team Facebook group, live webinars and recordings, and a whole website of free online classes when you join my Land of Havilah doTERRA team!  Click here to see our wholesale program enrollment kits to give you several oils for your "natural arsenal", and get started today!
---
Showing all 7 results