Description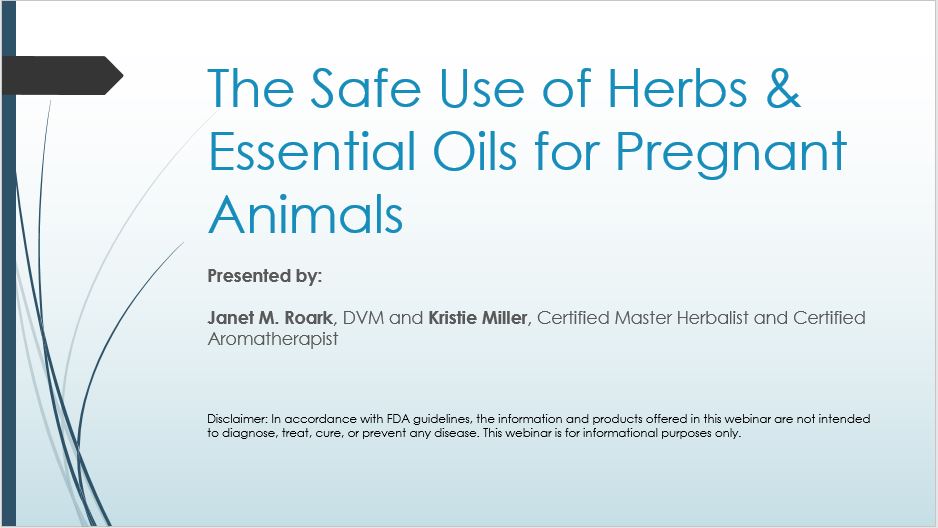 This is the first webinar of a series with my friend, Janet Roark, DVM, the Essential Oil Vet.  Dr. Roark discusses essential oils and their uses/applications with animals.  Kristie, our Certified Master Herbalist/Certified Aromatherapist, discusses herbs and their uses/applications.  We cover goats quite a bit, so this is a rare gem!  We focus on herbivores, and we have a lot of general information that also applies to all species!  This video recording is viewed online, and is 1 hour and 11 minutes in duration.  With this purchase, you will be emailed a PDF download of the handout/slides and that will contain the link you require to view the video.  You can also access the download through your account here on the Land of Havilah Farm website.  This link is specifically for you and your household, so if you wish to share this information, please refer others here so they can purchase their own copy.  This video is not permitted to be shown publicly, it is for your private use only.
Class outline:
The Safe Use of Herbs & Essential Oils for Pregnant Animals
Presenters:  Janet Roark, DVM, & Kristie Miller, MH/CA/CEIT
Introduction
What Are Essential Oils
Quality & Testing of Herbs/EO's
The Benefits of Using Herbs/EO's During Pregnancy
Beneficial Herbs/EO's to Use During Pregnancy
Herbs/EO's to Avoid in Excess During Pregnancy
Administration of Herbs and Proper Dosage
How to Use EO's Aromatically/Topically/Internally
Addressing Parasites During Pregnancy
Herbs/Oils to Use Until the Vet Arrives
Membership/Promotions
Resources
NOTE:  This class covers many single oils and a few brand specific blends
Please contact us if you require any assistance with viewing the video/recording.
Disclaimer: In accordance with FDA guidelines we must state that the information and products offered in this webinar are not intended to diagnose, treat, cure, or prevent any disease. This webinar is for informational purposes only.