UPDATE!  I have an online class here that includes videos and I walk you through how to prepare and administer the tea method.
I'm constantly experimenting with herbs.  Many of you know that I have a dairy goat herd and that I'm a Certified Master Herbalist.  My herd got bigger and I started considering how I could get the herbs to them consistently and make it easy on myself.  I experimented mixing them in kelp and leaving it out free choice, and I still do that with the Parasite Formula, since my animals are used to it.  That way they can self medicate if they need to.  I've also used tea on occasion while cleansing our herd, and it worked very well for me.  MUCH less work and the animals did well on it.  In fact, they drank more often with the tea added to the water than they did when I offered plain water.  It occurred to me that this may work very nicely for our Parasite Formula as well, so I started offering it once a week (or as needed) in their water tank.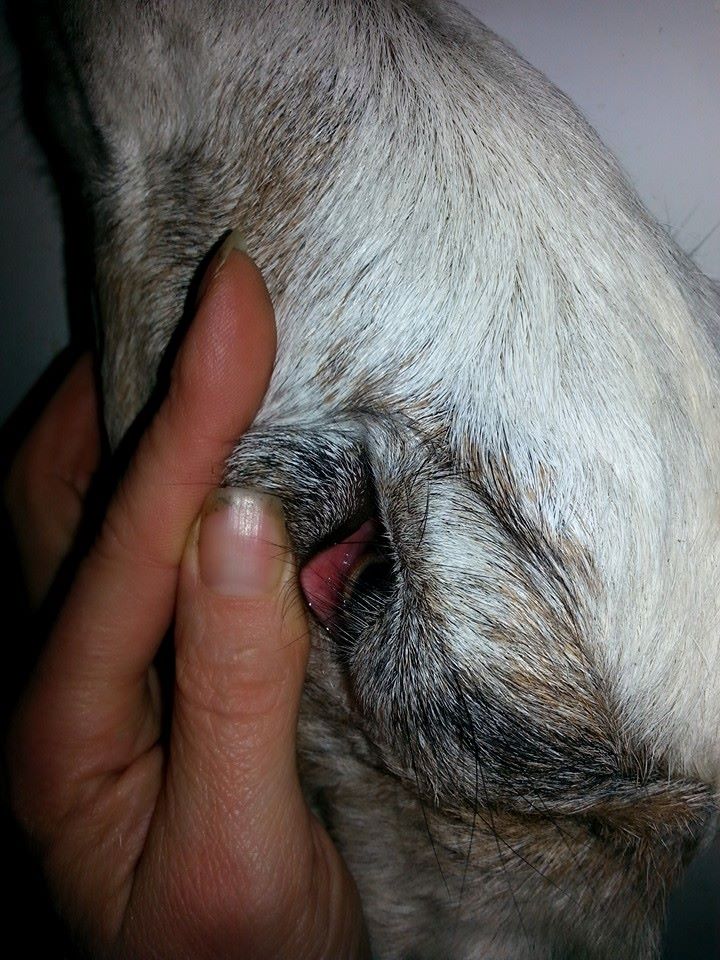 I watched their eye membranes (see FAMACHA information) and ran fecal tests to gauge how well the tea was working for me.  I am very pleased with the results and I'm finally ready to share this process with you, since it is SO simple.  This is Tori.  Her eye membranes look fabulous!  You should see her in person, because the flash washed out the watermelon red color a bit.  🙂
Making Parasite Formula Tea:
I have a 16 gallon tank. I take one cup of Parasite Formula herb mix and put it in a half gallon canning jar.   I add 6-7 cups of steam distilled water just off the boil to make the tea.  I put a lid on tight and steep it for at least 15 minutes.  I personally let it steep until the jar is cool enough to handle. Then I dump the entire contents of the canning jar into the water tank and fill it up the rest of the way with water from the hose/hydrant.
You may be wondering, "Can I make a smaller quantity?"  Certainly!  Follow the same instructions, including the same amount of steam distilled water, but use 1/16th of a cup of herbs (I would use one heaping Tablespoon) for every gallon of water your tank holds.
I have had excellent results using this amount of herbs in that amount of water (tank size).
We do NOT go by weight of the creature while using this method.  I go by the size of the water tank.
Why distilled water?  I specify steam distilled water because it pulls 30-35% MORE potency out of the herbs we use.  Reverse Osmosis water is second best if you do not have access to distilled water.
I do NOT add Garlic/Ginger paste to the tea.  It floats on the surface of the water and my goats did not like that.  I save the Garlic/Ginger Paste for parasite overload, given as a drench twice a day.
I wait until they finish the tea in the tank before I rinse it out and give more or put out plain water.
Additions?  You CAN add some Black Strap Molasses and/or raw and unfiltered Apple Cider Vinegar to the tea to encourage them to drink when you first start putting out the tea.  I like to add ACV to the tea each time (if I remember) because of its health benefits.
I use the tea proactively once a week.  If I have young kids in the herd, I put it out 3x/week, plus any day that ground conditions are wet.  This seemed to work VERY well to keep coccidia under control, as when I checked the fecals of my goat kids I only found ONE coccidia oocyst (egg) on the ENTIRE slide of my centrifuged sample.
If you need clarification of these instructions, please leave a Comment below and I will edit this post to include that clarification.
I hope this was helpful to you and your herd!
~ Kristie, MH, CEIT
www.landofhavilahfarm.com